Photos courtesy of Julie Shelby and Paul Dotson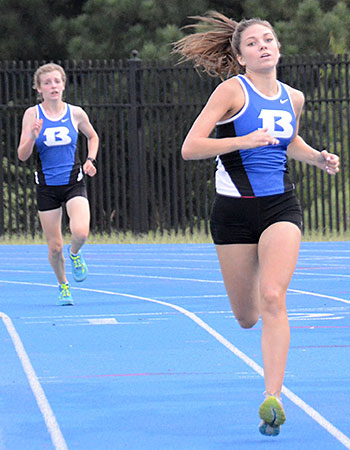 Abbie Patton and Madison Dettmer finished 1-2 to lead the Black team to the team title in the annual Bryant cross country intrasquad meet on Thursday at Bryant Stadium.
Freshman Margo Gilliland paced the White team and finished third overall while freshman Kim Hernandez took sixth overall to lead the Blue team.
Patton finished the course in 13:33.36 with Dettmer right there at 13:36.87. Gilliland, leading the junior high, finished third overall with a time of 14:21.24. Running for the White team as well, sophomores Jullian Colclasure and Caroline Pelton were fourth and fifth, respectively. Colclasure finished in 14:24.04 and Pelton in 14:30.34.
Hernandez was sixth running for the Blue team, finishing in 14:31.63. Eighth grader Maddie Nelson impressed with a seventh-place finish. Her 14:36.91 contributed to the Blue team's point total.
Bryant officially opens the 2018 season on Saturday, Sept. 1, at Ouachita Baptist University in Arkadelphia.
Here are the full results of the intrasquad competition: