For more photos of this event by Kevin Nagle, go here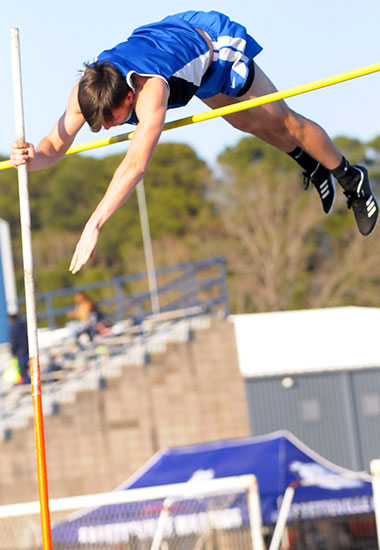 Chris Barrientos broke the school record in winning the 3200-meter run to lead the Bryant Hornets to a fourth-place finish in the annual Hornet Relays at Bryant Stadium on Tuesday. Barrientos's time of 9:32.48 was just ahead of the previous record of 9:33.4, which was run by Ethan Blakley in 2007.
The Hornets scored 78 points to finish behind team champion Benton (98), Fayetteville (97), and Cabot 79.5). Maumelle tied Bryant for fourth place. A total of 15 teams scored in the meet.
"Obviously Chris Barrientos in the 3200 was the highlight of the meet for us," acknowledged Hornets coach Steve Oury. "He was right on pace for the first mile at 4:49, then picked it up and ran a 4:43 second mile. The wind had died down, so it was perfect distance running weather."
The Hornets picked up second-place points from the 4×800 relay team with Jake Dreher, Josh Nelson, Barrientos and Logan Kretsch turning in an 8:26. Johnny Wallace earned a second-place in the shot put with a. throw of 43'7".
Michael Chatman was third in both the shot and the discus. His shot toss was 41'10.5" and his discus throw went 116'. Wallace was fourth in the discus for the Hornets with a fling of 115'4".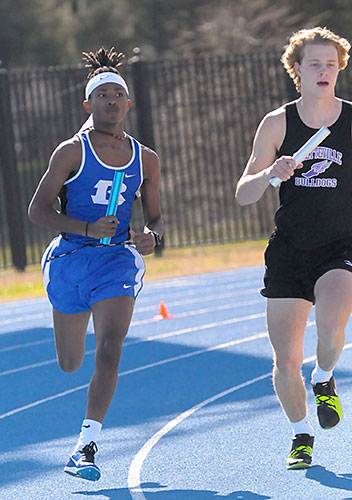 Kaine Villareal-Hurst was third in the pole vault, clearing 13'.
"I thought Kaine had a very nice effort in the pole vault, setting a personal record by a foot," Oury noted.
The Hornets' 4×100 relay team earned third-place points with a 44.78 clocking as Dionte Coller, Braden Williams, Diante Woodson and Randy Thomas combined. In the 4×400, Dalen McDonald and Dylan White teamed with Thomas and Kretsch to finish in 3:34.76, which was also good for third place.
Kretsch was third in the 400 in 53.39 with Woodson fourth in 53.63 and J'lun Herron fifth in 54.15.
Thomas finished sixth in the 100-meter dash with a time of 11.48 and eighth in the long jump at 19'5.25".
Braylon Butler was seventh in the triple jump covering 38'10".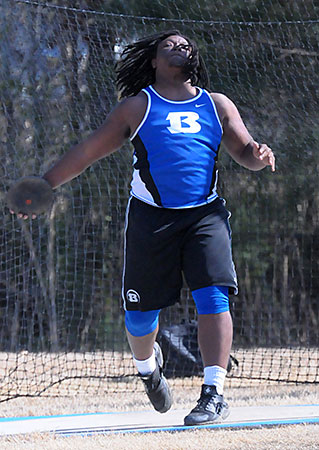 "We were a little flat in the sprint races," Oury said. "And we are still dealing with some injuries in the sprint and jump crew. We are hoping to get some guys healed up and have them ready to go after spring break."
The Hornets are scheduled to return to competition on Thursday, March 29, at the Ram Relays at Hot Springs Lakeside.