For more photos of this event by Kevin Nagle, go here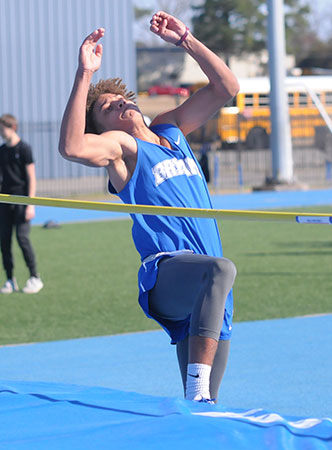 The Bryant Hornets freshman team won six events including two for distance runner Bresner Austin on the way to a second-place finish at the annual Junior Hornets Relays at Bryant Stadium on Monday.
Conway White won the team title with 129.5 points to Bryant's 128. Benton was third at 122 in the 10-team meet. Bryant Middle School was sixth with 22 points and Bethel Middle School was seventh with 15 points.  Only Bryant's eighth grade teams were separated out from among the junior high teams.
Austin won the 800-meter run in a time of 2:08.64. Conway White's Ethan Kailey was second in 2:08.71 with Hagan Austin third for Bryant in 2:14.53. Bryant Middle School's Chris Herrara was sixth in 2:20.13.
In the 1600-meter run, Bresner Austin won in 4:48.00 to edge Conway White's Cade Swindle at 4:52.15. Bryant's Luis Martinez was sixth in 5:16.54 while Herrara added to Bryant Middle School's scoring with a seventh-place finish in 5:18.86.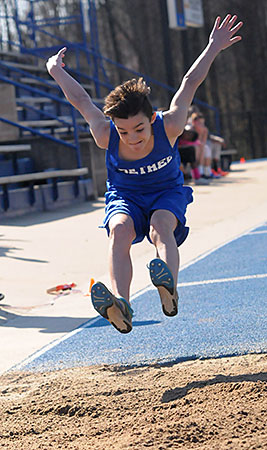 The Bryant freshmen also picked up wins in the long jump from Ty Bahnks, the shot put with Luke Blacklaw and the 400-meter run from LeQuave Brimfield.
In addition, the 4×400 relay team won with River Gregory, Brimfield, Sabino Olvara and Ammon Henderson combining on a 3:50.87. Conway Blue was second in 3:51.66 and Bethel Middle School's Taj Van Tassel, Gage Shepard, Michael Rivera, and Liam Babbitt taking eighth in 4:12.69.
Bahnks' winning effort in the long jump covered 19'5" with Bryant Middle School's Jaxon Ham second at 18'8".
In the shot, Blacklaw's heave of 41'10.5" won over Benton's Kyree Watkins (41'9"). Bryant's Jimyle Harris was seventh with a toss of 37'10". Blacklaw was second in the discus with a fling of 123'5", right behind Benton's Karin Hernandez' throw of 126'8". Zach Durbin's throw of 106'5" picked up fifth-place points for Bryant while Bethel's Matthew Griffe took eighth with a toss of 87'4".
Brimfield's winning time in the 400 was 55.16, just better than Conway Blue's Gavin Blaylock at 58.04. Van Tassell was fifth for Bethel at 1:00.03 while Olvara was sixth in 1:00.28 for the freshman team.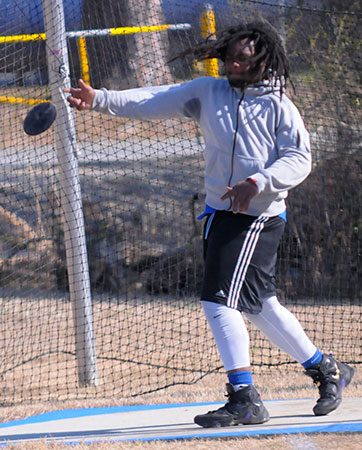 Bryant picked up second-place points in the 4×800 relay as Bresner Austin, Henderson, Martinez and Hagan Austin combined on an 8:56.45 clocking. Conway White won in 8:42.90. Bethel's Babbitt, Drew MacIntire, Jacob Karp and Van Tassel ran 9:50.71 to finish sixth with Bryant Middle's Gavin Burton, Josh Lawley, Chris Hernandez and Herrara turning in a 10:01.22 for seventh.
In the 4×100, Bahnks, Gregory, Brimfield and Miles Aldridge run a 46.03 to finish third. Bryant Middle's quartet was seventh with Dawson Grant, Ham, Luke Dreher and Daizure Hale teaming up for a 50.43. Bethel's Blake Everett, Carson Burnett, Michael Rivera and Fabian Torres turned in a 51.16 to finish eighth.
Aldridge was fourth in the 200 with a time of 24.50. Bahnks was sixth in 24.73.
In the pole vault, Braden Moore was fourth by clearing 7'0".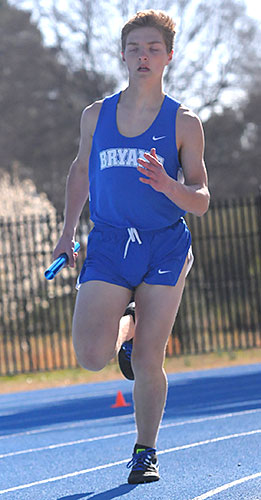 Bryant Middle School's Lasley ran a 47.96 to finish fifth in the 300 hurdles. Freshman Zack Overton was sixth in 48.16 while Bethel's Shepard was seventh in 48.53, and freshman Christian Phillips was eighth in 49.42.
Brimfield added sixth-place points in the high jump and the triple jump. He cleared 6'2" in the high jump and covered 35'2" in the triple. Bethel's Brandon Gabe was eighth in the triple jump at 33'9".
Overton was also sixth in the 110 hurdles, finishing in 19.04 with Bethel's Everett eighth in 20.11. Banks took seventh in the 100-meter dash, in a time of 11.86.
The freshman team is set to return to competition on Tuesday, March 27, at Hot Springs Lakeside. The day before, on Monday, March 26, the middle school teams will compete at Hot Springs.