For more photos from this event by Kevin Nagle, go here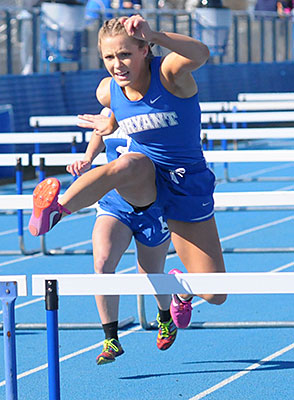 Jillian Colclasure won an individual event and Ella Reynolds won two as the Bryant Lady Hornets freshman team finish second at the annual Junior Hornet Relays at Bryant Stadium on Monday.
The Lady Hornets finished with 140 points. Benton won it with 162.5 points. The Bethel eighth grade team was sixth with 48 and Bryant Middle School was eighth with 6.5 points in the 10-team field.
Bryant's eighth grade teams were separated out unlike the other schools in the competition.
Reynolds won the 400-meter run with a time of 1:04.34, beating out Benton's Laney Wells (1:06.06). Bethel's Olivia McCallister was fourth with a time of 1:08.52 while freshman Taylor Clouse took fifth in 1:08.73.
In the 200, Reynolds won in 27.06 with teammate Mallorie Scott-Smith seventh in 28.98.
Colclasure's win came in the 300 hurdles, which she finished in 54.67. Bethel's Samantha Achorn was second with a time of 55.15. Freshman Annalese Rabon was fourth in 56.27.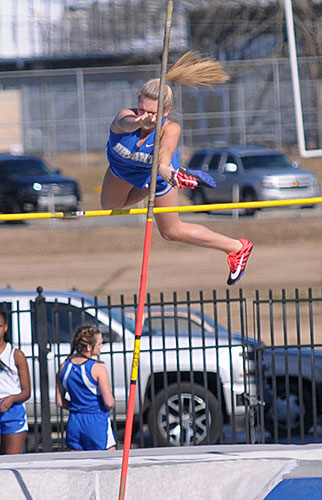 Reynolds also lent a leg to the Bryant freshman 4×400 relay team, joining Caliyah Thomas, Madelyn Thomas and Sydney Dettmer in turning in a 4:40.49 to place second to Benton's 4:33.46. Bethel's team of Ashlyn Barnett, Isabella Jackson, Yasmin Amlani and Margo Gilliland was third in 4:43.57.
Madelyn Thomas added a second-place finish in the 100-meter hurdles, turning in a time of 17.57. Conway Blue's Madison Holloway won in 16.44. Rabon was fourth with a time of 17.92 and Bethel's Lawson Godwin took fifth in 17.99.
Bethel also earned a second-place finish in the 800-meter run in which Gilliland turned in a 2:37.62, finishing right behind Mena's Alex Harper (2:32.35). For Bryant's freshman team, Dettmer was sixth in 2:44.64 with Caroline Pelton seventh in 2:46.84.
In the other relays, the freshman team of Caliyah Thomas, Madelyn Thomas, Jaiyah Jackson and Amya Smith was third in the 4×100 with a time of 53.80. Bethel was fourth in a time of 55.04, run by Erin Ives, Ashlyn Barnett, Godwin and Alana Gould. Bryant Middle School's quartet of Daria Greer, Nikayla Murphey, Akieira Craig and Star Haney was seventh in 57.19.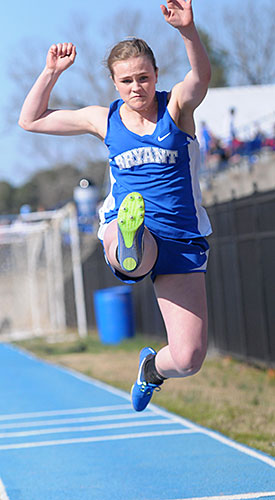 In the 4×800, Bethel's McCallister, Kimberly Hernandez, McKenzie Hicks and Gilliland teamed up for an 11:02.07 to take third. The Bryant freshmen Madison Dettmer, Madison Moore, Aryn Stiles and Sydney Dettmer finished fourth in 11:09.72.
Pelton was third in the 1600 with a time of 6:08.46. Madison Dettmer was fifth in 6:15.96 and Bethel's Yasmin Amlani was sixth in 6:21.13.
Amya Smith was fourth and Reynolds fifth in the 100-meter dash. Smith ran a 13.29 and Reynolds posted a 13.36.
In the field events, Rabon had the top finish for Bryant, claring 7'6" in the pole vault. Benton's Payton Fleeman won by getting over at 8'0".
Skylar Risk was third in the high jump at 4'7" and fourth in the triple jump at 30'9.5". In the former, Mallorie Scott-Smith was fifth at 4'2" and Jenna Harper of Bryant Middle School was seventh, clearing 4'0". In the latter, Sydney Dettmer covered 29'9.5" to place sixth with Bryant Middle School's Kourney Scott eighth at 27'3.5".
In the long jump, Amya Smith was fourth at 15'1" with Reynolds fifth at 14'8" and Bryant Middle's Sarah Hudspeth earning eighth at 13'9.5".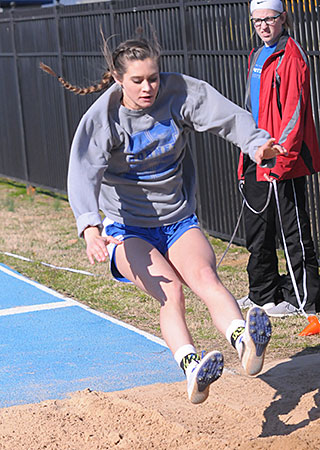 In the throwing events, Hobby Louisa was fifth in the discus with a fling of 64'0" and seventh in the shot at 28'5". Katrina Johnson was seventh in the discus at 56.7" while Bethel's Monica Shifflet took sixth in the shot with a heave of 29'1".
We had a lot of personal best times and distances," said Lady Hornets freshman coach Lawrence Jefferson. "I'm pleased with our effort. The girls are improving and working hard every day."
The freshman team is set to return to competition on Tuesday, March 27, at Hot Springs Lakeside. The day before, on Monday, March 26, the middle school teams will compete at Hot Springs.