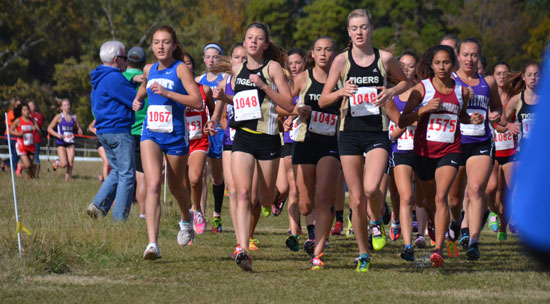 Photos courtesy of Julie Shelby
HOT SPRINGS — Behind an All-State performance by senior Caitlyn Bell, the Bryant Lady Hornets cross country team took fourth place in the team standings at the 7A State Championship meet held at Oaklawn Park on Saturday.
Bentonville won the title with 47 points followed by Rogers (52), Fayetteville (73), Bryant (135), Rogers Heritage (144), Springdale Har-Ber (178), and Cabot (182).  There were 12 teams and 107 runners in the race.
Bell covered the 5k course in a time of 19:53 to earn eighth place. She received one of the coveted top 10 medals and the Arkansas All-State status that goes with it.
Junior Hannah Shelby was close behind in 14th place with a time of 20:02. Senior Talyn Billins was Bryant's third runner at 24th place in 20:34. Senior Lauren Ackley (47th, 21:49) and sophomore Rachel Curtis (50th, 21:57) finished out the scoring five for the Lady Hornets.
Freshman Lauren Hart finished in 79th place in 23:30.  She was followed by seniors Alanna Cordova (85th, 23:48) and Alyssa Cordova (86th, 23:48), and sophomore Madelyn Elswick (90th, 24:18).
"I am extremely proud of how these young ladies finished off the season today," declared Bryant coach Danny Westbrook. "This is the best team finish we have had at a State meet in several years.
"I looked up at the mile mark and Caitlyn Bell, Hannah Shelby, and Talyn Billins were all running in the lead pack," he noted. "They really went out and laid it on the line. Caitlyn has shown great leadership this season and I was glad to see her run such a great race."
Based on their strong finish times, both Bell and Shelby will be members of the Arkansas All-Star team that will face Oklahoma's All-Star team next Saturday in Rogers, Westbrook mentioned.