Photos courtesy of Jason Majors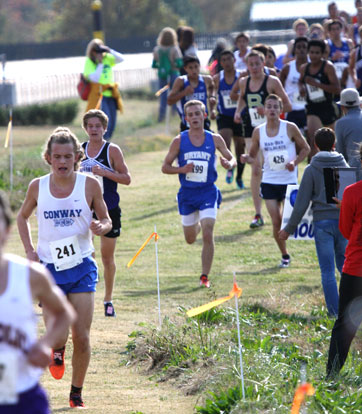 HOT SPRINGS — The Bryant Hornets followed an All-State performance by Charlie Terry to a sixth place finish at the 7A State cross country championship Saturday at Oaklawn Park. Terry placed eighth in a time of 16:18 in the 14-team, 125-runner field.
Rogers won the meet with a total of 34 points. Bentonville placed second with 63 points, followed by Springdale Har-Ber with 65, Fayetteville (133), Little Rock Catholic (166), and Bryant (170).
The rest of the Hornets competing Saturday were John Carder (36th in 17:26), Connor Wilson (39th in 17:32), Nicholas Schmidt (41st in 17:35), Ben Majors (59th in 18:01), Eric Stewart (60th in 18:08), Joey Colvert (68th in 18:25), Mark Winn (74th in 18:34), and Decatur Austin (79th in 18:47).
"That was not our best day today," said Hornets coach Steve Oury. "We just got off to a very poor start and dug too deep of a hole to get out of. I take full responsibility for not anticipating that our starting position at the extreme far left of the starting line could cause us to get boxed in if we didn't get out fast enough.
"Charlie Terry did a great job of working up into the top 10 and earning All-State honors," he added. "John Carder, Connor Wilson, and Nick Schmidt all recovered and ran solid races."
Oury lauded his seniors, Wilson, Schmidt and Mark Winn who ran their final race for Bryant.
"I couldn't be prouder to be their coach," he asserted. "They, along with the other seniors who didn't run at State, have been instrumental in leading this team to the great year we had. Even though we didn't have a great day today, we had a very successful season with a conference championship. Our underclassmen will need to work hard to build on this years' success for next year."