For more photos of this event by Rick Nation, go here
By Chris Morgan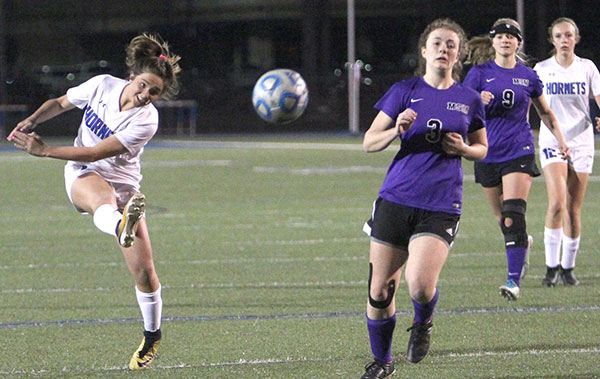 The Bryant Lady Hornets played on their heels from the start after giving up a goal in two minutes against the Mount St. Mary Academy Belles on Thursday night. The chip-in shot put the Lady Hornets behind and forced them to play catch up. Though they tied it, the Belles scored in the second half to earn a 2-1 victory.
It was the first setback for Bryant in 7A-Central Conference play this season after a 2-0 win at Fort Smith Northside on Tuesday. They dropped to 6-2 overall.
The Lady Hornets took five shots in the first half, four of them being off goal. Their midfield struggled uncharacteristically allowing the Belles to keep the ball on Bryant's back third throughout the first half.
"I think we came out confident," said Lady Hornets coach Nicole Inman. "The fact they got a goal in early rattled the girls a little bit. They play the same style as most of the other teams play, but they were just faster and better."
After the early goal, the Belles failed to convert off of other scoring opportunities in the first half.
With 10 minutes left, Bryant junior Alyssa Fason chipped a shot in the top right corner, tying the game and giving the Lady Hornets momentum going into halftime.
Bryant only gave up two fouls in the first half but would later give up five in the second.
In the second half, the Lady Hornets looked to carry out a lot of the momentum from their late goal. But that was shut down fairly quickly. Five minutes into the half, the Belles retook their lead with an over-the-keeper shot into the top left corner.
Offsides crippled the Lady Hornets. They had six offside calls.
"If we would play the ball a little faster," Inman said. "I think we were a little sluggish in just the game in general. The good news is, we just didn't play well. It's not like they're a better team than we are."
After spring break, the Lady Hornets travel for their third conference game at Little Rock Central on the Tuesday, March 27.