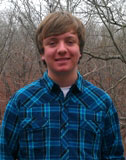 A missing teenager is believed to be somewhere in the Central Arkansas area, according to the Benton Police Department.
Bayley Grider, a 15-year-old white male, has not been seen since approximately 6:30 a.m. Monday at his residence in Benton.
He is approximately 5' 11" tall and 220 lbs. and has blue eyes and sandy blonde hair. He was last seen on foot, wearing blue jeans, a multicolored shirt and black tennis shoes, according to the police department.
Anyone with information on Grider's whereabouts can contact the Benton Police Department at (501) 778-1171 or (501) 315-TIPS. Individuals also may send an anonymous tip about his whereabouts via text to CRIMES (274637) with the keyword BNPD in the body of the text.