The Bryant Lady Hornets freshman volleyball team opened the 2010 season by winning their first game over the rival Benton Lady Panthers, 25-23, at the Bryant Middle School gym on Monday night. But, in volleyball, a game does not a match make. Benton came back to win the second game 25-15 then eked out a 25-21 win in the third game to win the match 2-1.
The Lady Hornets, coached by Monica Parish, include Jenna Acheson, Aubree Allen, Ashlea Brazil, Ashlee Caton, Stormi Chaloner, Kaley Coppock, Hannah Crouch, Dezarea Duckworth, Kaitlyn Greer, Nicole Guyett, Kayla Jolley, Jacie McMahan, Mekaylah Muhammad, Breanna Sanders, Courtnie Schultz, Becka Shaddon, Erica Smith and Katy Stillman.
In the opening game, Jolley served the Lady Hornets from points 20 to 24 as they surged to the late lead.
"She had a pretty consistent serve," Parish noted.[more]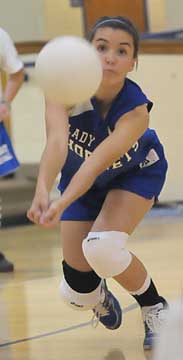 Caton helped put together an early run as she served points 7 through 10.
"Hannah Crouch had two aces," Parish said. "And Desarea Duckworth came in and was our spark. She got us going.
"In the second game, we just couldn't keep a roll going," added the coach. Dezarea served points nine to 11 after it was sided out at point eight. That was really the only roll we got on. We just stopped talking in that game.
"Benton had the momentum going into game three and they got ahead," Parish recounted. "But we fought back. Breanna Sanders served points 12 through 16."
Bryant just couldn't gain the lead down the stretch as Benton held on.
"Overall, I was kind of surprised how the team came out and performed," Parish allowed. "In practice, we weren't serve-receiving very well. I think we were just ready to play someone else. We did a much better job of that against Benton.
"Our rally play was very good, very consistent," she added. "We didn't have very many kills. We're not going to be a spiking team this year like last year. The two keys were serve-receive and the rallies and that can get some momentum going for you too. Those were the two things I was most pleased about. We've still got a lot of work to do. We've got to keep working to be consistent."
The Lady Hornets travel to Lake Hamilton on Thursday. The Bryant White eighth grade team will play Lake Hamilton at 5 p.m., with the freshman game after that.
"It'll be our first road trip and hopefully we can improve from this," Parish mentioned.
(Photos by Kevin Nagle)