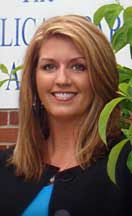 By Martin Couch
Heather Kizer has announced her candidacy for Bryant City Clerk.Kizer currently serves as the finance director for the Republican Party of Arkansas.
"I want to bring my 13 years of experience in state government to the city of Bryant," said Kizer, in a written announcement. "Transparency and accountability in government are my top priorities and I believe that begins at the local level."
She added that she felt a need to step up and use her administrative experience to become a conservative leader in her community.
Kizer has worked for the Arkansas State Senate in the Constituent Services Office for over two years. In early 2002, she went to work for Lt. Governor Win Rockefeller as a Management Analyst and served until his passing in 2006. For the next three years, she worked as an Administrative Services Specialist for the Arkansas Division of Legislative Audit.[more]
"Bryant is one of the fastest growing cities in the state, and I want to bring my many years of experience in politics, business and finance to serve the city of Bryant efficiently and responsibly," Kizer said.
She has a bachelor's of science degree from the University of Phoenix and is married to Mark Kizer. They have two children Aaron, 18, and Ashlin, 11, and their family attends Brand New Church in Bryant.
"My ultimate goal is to give back to the community where I grew up by offering myself for public service," Kizer said. "I'm running for your family and mine."