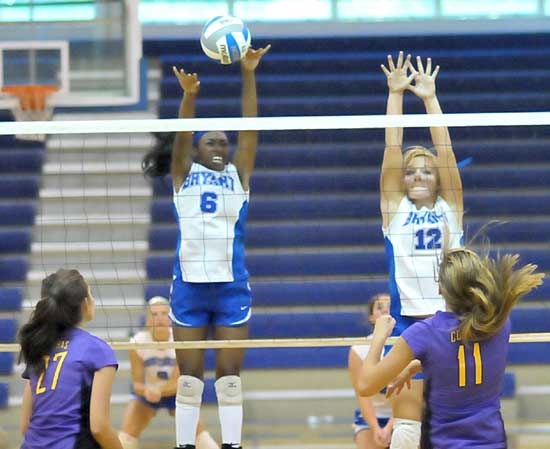 By Martin Couch
The 2010 official season opener for the Bryant Lady Hornets volleyball team wasn't exactly what head coach Beth Solomon wanted to see.
Inconsistency on serves, 15 to be exact, doomed the Lady Hornets in a four-game match against the visiting Fountain Lake Lady Cobras.[more]
Bryant won the first game 25-22 and showed promise that it was in charge of the match, but falling behind 7-0 in the second game and eventually losing 13-25 told that a tough night was ahead.
The Lady Hornets lost the next two games 25-20 and 25-22.
"Inconsistency is what got us tonight," Solomon said. "We're going to fix that. We are still trying new things and I can't say the girls are comfortable with each other yet. We have one who plays well one game, then not the next time. It makes you ask who you can put in there."
In the first game, Hannah Rice served for the first three Lady Hornets' points. McKenzie Rice got a kill during the start of play then, with Maggie Hart serving, Brianna White scored consecutive points on blocks at the net. Two Lady Cobra errors led to a 6-1 Bryant lead.
However, the errors began for the Lady Hornets as well. A service out, then a net ball and two hitting errors got Fountain Lake the lead 7-6. Solomon called a time out to settle her troops and they responded by staying close and forcing Fountain Lake into errors.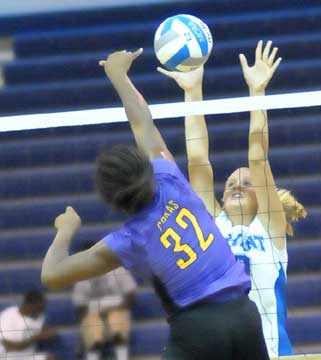 Trailing 13-8, Courtney Davidson spiked on the Lady Cobras and White served two times and forced two hitting errors to close the gap to 13-11. Hart's block and McKenzie Rice's point tied the game seconds later then Rice pounded the net for two more points and a Fountain Lake error to give the Lady Hornets a 17-16 lead.
Amber Cope kept Bryant out in front with block for a point, then Hart got a kill. White made a block and eventually Hart made the final kill to give the Lady Hornets the first-game victory.
The celebration was short-lived though as Fountain Lake took advantage of five Lady Hornet errors to race out to a 7-0 lead. Finally, McKenzie Rice scored for Bryant, but a net serve gave Fountain Lake a point. Hart killed the ball again, but afterwards the Lady Hornets hit the ball into the net on consecutive volleys and fell behind 11-3.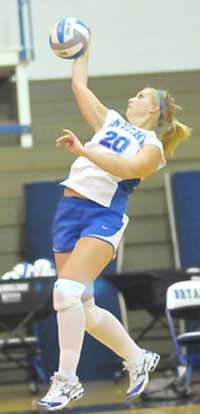 Alyssa Anderson made a key point to stop a Fountain Lake rally and White got a kill. Davidson got another point for Bryant as the game bounced back and forth for about three minutes. But Fountain Lake reeled off four straight points to go up 17-8.
The Lady Hornets scored their next five points on Lady Cobra errors, but Fountain Lake was able to score the last three points to win the second game 25-13.
Bryant fell behind 4-1 in the third game before Hart got another kill. It was 6-2 when Sydney Manley served for two Lady Hornet points and Anderson got a kill to close the gap to 8-5.
With Anderson serving, Fountain Lake made three straight errors and the game was tied 8-8. A time out served as inspiration for the Lady Cobras as they scored four points in a row before Hannah Rice broke the string with a Bryant point and Fountain Lake hit the ball out to make it 12-10.
The Lady Hornets got four points down again but McKenzie Rice got a kill and a block for a point to get the Lady Hornets to 15-13.
Bryant had a net serve and hit the net two more times while trying to get the ball over to give the Lady Cobras a 20-14 lead. Two kills by Fountain Lake made it an eight-point advantage, but the Lady Hornets tried to come back with Anderson, Davidson and Hart scoring. Hart scored twice in a row with Anderson serving to close to within 23-20, but the Lady Cobras got the final two points of the game to take a 25-20 win and a 2-1 lead in the match.
In the fourth game, the Lady Hornets started with a kill from McKenzie Rice and two errors on the Lady Cobras. White got the ball down for a point to make it a 4-2 Bryant lead, but Fountain Lake came back to take a 6-4 edge.
White again got a block to score, but a costly service out allowed the Lady Cobras to remain up by two points. White got a
kill and Davidson killed the ball after a Lady Cobra kill, then an out ball by Fountain Lake tied the game 8-8.
Two errors on Bryant and an ace serve put Fountain Lake up 13-8.
Brooke Howell came on to get the next Lady Hornet point, but a double-hit and an out ball coupled with two points from Fountain Lake made it 17-11. Howell came through again for Bryant and two errors on the Lady Cobras got the Lady Hornets back to within 17-15.
Later in the game, Anderson served for an ace to tie it 18-18, but Fountain Lake scored five points in a row. Bryant rallied behind a kill from Davidson and White, but on the last point of the game, trailing 24-21, the Lady Hornets were whistled for serving out of turn and Fountain Lake was awarded the game-winning point.
"We had some good times tonight, but we also had inconsistency," Solomon said. "Lauren Reed was by far our best passer. She's our libero and that's what she's supposed to do.
"I am hoping it was a wake-up call for the girls. This is their second night out and last Thursday at Benton we finished kind of on a low note. We came into tonight like that and we just can't play inconsistently. We have to take Bryant volleyball to the next level and we can't do it playing like that."
Howell and Alex Boone led the Lady Hornets junior varsity to back-to-back wins in a 25-17, 25-15 sweep of Fountain Lake's JV.
"I felt like the JV played really well," Solomon said. "We had a lot of girls step up for us who hadn't played their positions before. Brooke Howell was playing middle for the first time for us and did an awesome job. Alex hit well, too, and our passing and serving looked much better."
The Lady Hornets host Malvern on Thursday, Aug. 26.