Photos by Kevin Nagle
Not much went right Thursday night for the Bryant Blue Hornets eighth grade basketball team of[more] Bethel Middle School when they took on the Benton Panthers eighth grade at the Bryant Middle School gym.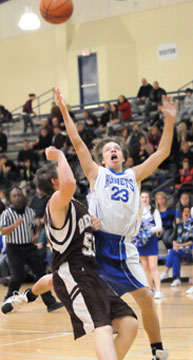 Benton put together a 22-5 run in the first half to take control of the game on the way to a 44-15 victory.
Bryant Blue led 3-2 early and only trailed 6-5 when the Panthers started their run. Benton led 13-5 at the end of the first quarter and 28-10 at the half. It was 43-14 going into the fourth quarter.
Evan Lee led the Hornets with 8 points. Gunnar Burks added a 3-pointer.
Now 6-5 overall, Bryant Blue is set to return to action on Thursday, Jan. 19, at Lake Hamilton.