Photos by Kevin Nagle
The Bryant Blue Hornets eighth grade team of Bethel Middle School got out to fast start and never trailed in a[more] 41-31 win over the Little Rock Christian Warriors on Saturday.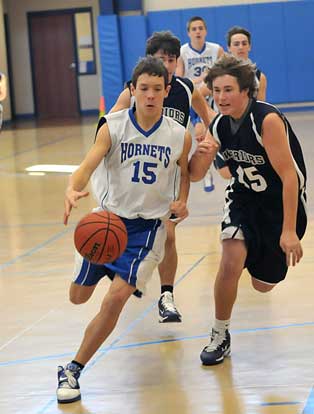 The team includes Jake Acord, Austin Green, Ryan Hall, Jason Hastings, Brushawn Hunter, Andrew Kincaid, Blaine Knight, Brian Tackett, Paul Tierney, Brandon Warner, John Winn, Mark Winn, Dylan Wolfe and Brendan Young.
The Blue Hornets improved to 10-5 on the season.They were led in scoring by Warner's 16 points. John Winn added 12, Mark Winn 8, Hunter 3 and Hall 2.
Bryant built a 10-3 lead by the end of the first quarter. The two teams played evenly in the second quarter with the Hornets up 17-10 at the break. The margin increased to 10, 28-18, going into the fourth quarter.
The Hornets return to action this Thursday at the Bethel Gym against North Little Rock Lakewood.