Photos by Kevin Nagle
Ezell knocked down a 3-pointer at the buzzer to send the game into overtime and the Bryant Blue Hornets seventh-grade team of Bethel Middle School[more] went on to defeat the Little Rock Christian Warriors 34-32 at the Bethel gym on Saturday, Jan. 15.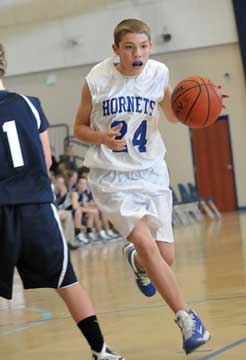 The Hornets are Logan Allen, Gunnar Burks, Blake Carnahan, Drew Carnahan, Drew Castleberry, Daniel Darbonne, Tanner Ezell, Alex Falco, Nic Feeko, Lawson Fincher, Jordan Gentry, Nic Hardin, Devin Howard, Aaron Orender, Jacob Pipken, Grayson Ruple and Ethan Southard.
Bryant trailed most of the game including 8-0 after the first quarter. They closed to within 14-12 at the half but by the end of the third quarter Little Rock Christian had pushed back out to a 25-15 lead.
"We had a great comeback," stated coach Derek McGrew. "We were down 3 with seven seconds left, called a timeout and drew up a play and Tanner buried a 3 at the buzzer."
It was Ezell's only basket of the game.
"I'm very proud of these young men," he added. "They refused to lose."
The coach noted that the 34 points the Blue Hornets scored was a season high.
Gentry led the team with 11 points. Allen added 10, Pipken 4. Along with Ezell, Howard and Ruple each had 3.
The win improved the seventh grade squad's record to 7-2 going into their game on Thursday at home against North Little Rock Lakewood.