Photos by Kevin Nagle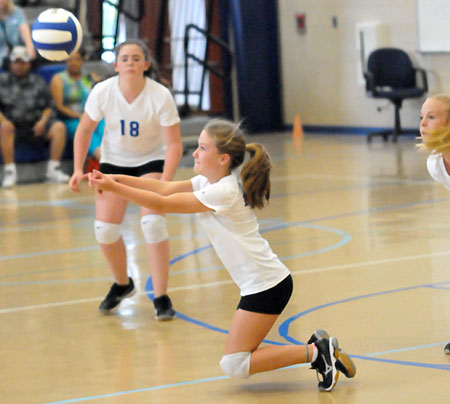 In a battle of the Bryant Blue Lady Hornets seventh grade team of Bethel Middle School and the Bryant White Lady Hornets seventh grade team of Bryant Middle School, Bethel prevailed in two sets, 25-12, 25-16, on its home court on Tuesday night.
Bryant Blue produced eight service aces to highlight the match. Lily Studdard had three aces as she got in six of her nine serves. Clair Watson added two aces with Shelby Bratton, Riley Hudson and Scarlet Matlock each serving up one.
Hudson was good on 12 of her 13 serves. Bratton was 3 for 3 while Matlock, Savannah Rye and Jade Rivers got in two of their three serves, respectively.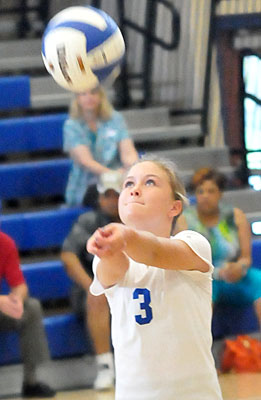 For Bryant White, Gabriella Diaz was the top server. She was good on six of her seven serves. Kinsleigh Shere was 3 for 4 and Callie Kendrick 3 for 5. Maria Waite and Laney Wells each went 2 for 2 from the line while Natalie Barragan got in 2 of 3 serves. Sophia Tidwell had a good serve in three attempts.
"Riley Hudson served nine straight in the first game and four straight in the second," noted Bethel coach Melissa Bragg. "Jade Rivers had three great hits from the middle.
"I was very pleased with how all groups played tonight," she added.
The Bryant White seventh grade is set to play again against Conway Simon and Conway Courtway on Tuesday, Sept. 20.
The Bryant Blue seventh grade team plays next this Thursday at home against Little Rock Christian.