Big first half carries Hornets to bounce-back win at Conway; Rycraw eclipses 1,000-yard mark
EDITOR'S NOTE: Because the look back at each day in Bryant athletic history has been so favorably received during the time when there was no sports during the COVID-19 shutdown, BryantDaily.com will continueposting past stories of Bryant athletics either posted on BryantDaily.com (from 2009 to the present) or published in the Bryant Times (from 1998 to 2008).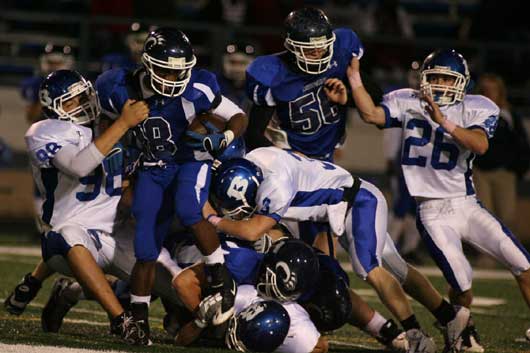 By Rob Patrick
CONWAY — Well, it looks like the Bryant Hornets will be contending for a conference championship after all.
And the next two weeks will be as much about that as they are about where they'll be seeded for the Class 7A State playoffs.
That's because the Hornets bounced back from their first loss of the season with a dominating first half against the Conway Wampus Cats on Friday, Oct. 16. And the 31-point halftime lead wound up a 31-14 victory that sets up a first-place showdown in the 7A-Central Conference when the unbeaten Cabot Panthers visit Bryant on Friday, Oct. 23.
But for the 14-3 loss in the mud at Bryant Stadium the previous week against Russellville, it would be a battle of unbeatens.[more]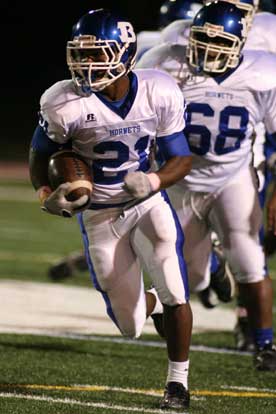 "We lost one we shouldn't have," stated Hornets head coach Paul Calley after the win over Conway. "It's tough to take. It still hurts. We should be undefeated.
"We played a really good first half," he acknowledged. "I was really pleased. We got down there close and we ran it in and we threw it in. We did what we had to do."
After getting close against Russellville, the Hornets were unable to punch it in. So, capitalizing on opportunities was an important return to form for Bryant.
A big part of that was the continued phenomenon known as Chris Rycraw. The senior running back carried a career-high 36 times for a career-high 245 yards and two touchdowns. He also scored on a pass reception.
That total put Rycraw over the 1,000-yard mark for the second straight year. His 1,093 yards this season gives him 2,647 in his career, 219 yards away from matching the career standard of 2,866 yards by Matt White.
Jimi Easterling, the senior quarterback, completed 14 of 23 passes for 152 yards and the score (to Rycraw) despite getting shaken up along the way. He finished out the game.
The Hornets finished with 460 yards of offense, 332 during that first half eruption.
Conway, in the first half, managed just one first down and gained only 27 yards against the stingy Bryant defense which was led by Stanley Oxner, who was in on 10 tackles. Linebacker Trey Sowell had a hand in 11 stops while Sammill Watson got in on 7 and Josh Hampton 6.
The Hornets were unable to maintain the intensity as the second half started and the Cats scored on their first two possessions to make it a game.
A third touchdown with just under seven minutes left to go in the game, was negated when it was ruled that quarterback Xavier Acklin was beyond the line of scrimmage when he let his pass fly.
So, instead of cutting the lead to 31-21, Conway was faced with a fourth-and-12 from the 28. On a deep pass down the sideline, Bryant's Sammill Watson closed and knocked down the throw at the goal line.
Behind Rycraw and the offensive line, the Hornets proceeded to drain the final 6:07 on a drive from its own 28 to the Conway 13.
Still, the second half performance left Calley a little less than satisfied.
"You don't want to think that (the team relaxed too much) but we made some mental mistakes offensively and we had to punt and Conway came out fired up," he related. "For them, it was either fold and get embarrassed or come out and fight. They fought.
"I'm not pleased with the mental preparation," he continued. "We've got some guys that are still immature and don't know how to get ready to play a ballgame. Down the road that's going to hurt us. I can harp on it and preach about it, all those things, but until individually some of them make up their mind that they're going to be serious about it and get themselves mentally ready to be physical and emotional and all the things that you need to win a championship, win in the playoffs. We've still got a long way to go maturity-wise.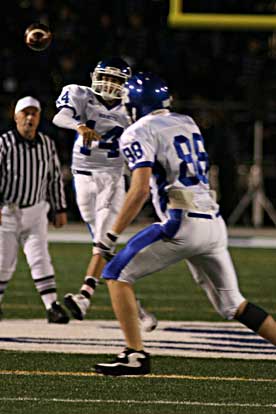 "It's consistency," he emphasized. "You can tell we're young in some spots and people don't have a lot of game-time experience."
Conway went almost strictly to its ground game with Acklin and running back Jemarkus Harmon carrying the load. And they had success, unlike the first half.
"Coach Griff felt like they were doing something a little different but, basically, they just committed to the run and we bent a lot," Calley said, referring to defensive coordinator Steve Griffith. "They had some long runs and, at times, we just looked slow. But we ought to have fresh legs. We haven't run that much in practice. We haven't been outside in three weeks. Maybe that has something to do with it."
The Hornets scored on their first four possessions in the game. The first drive covered 65 yrds in 13 plays. Along the way, they eked out a first down when Easterling sneaked ahead on a fourth-and-one. Later, he completed a pair fo 18-yard passes to Logan Garland.
Rycraw eventually scored from the 6. Jace Denker added the extra point.
Conway picked up its lone first down of the first half on a 17-yard run by Jemarkus Harmon. The Cats then sputtered and punted it back to the Hornets who proceeded to drive from their own 19 to paydirt.
Rycraw almost got the points on the board on the first play from there, but much of his 77-yard bolt was negated by a penalty. A play later, however, Easterling pitched the ball to Rycraw going around right end who, in turn, pitched to Logan Garland coming back the other way. Sprung by a big block from Easterling, Garland slashed for 46 yards and paydirt.
Denker's extra point made it 14-0.
Conway still couldn't manage a first down. Acklin completed a 12-yard pass only to have it negated after a holding penalty. A play later, Oxner drilled the intended receiver to force an incomplete pass.
Bryant's third scoring drive featured a 43-yard run by Rycraw and a holding penalty that negated his 17-yard touchdown run. No problem. Four plays later, Rycraw took it in from the 2, Denker added the PAT and it was 21-0 early in the second quarter.
Conway's offensive struggles continued. On a third-and-5 from its 27, Acklin was dragged down by Ryan Cox and Blake Heil for a loss of 11. Tyler Burton punted the ball away and the Hornets drove from their own 49 to the Conway 25 where the march stalled. Denker came on and ripped a 42 yard field goal to make it 24-0.
On the kick, Bryant's left tackle Kaleb Burns, the lone starter that returned from last year, was shaken up. Though he was relegated to the sideline the rest of the game and was applying ice to a knee, he appeared to be walking the sideline pretty well.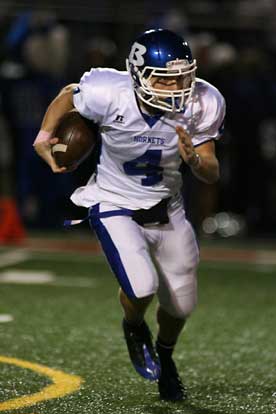 Another three-and-out set up Bryant's final touchdown. A sack by Heil and Ben Seale on third down forced the punt.
Pushed back to their own 37, the Hornets went the distance in 11 plays. Rycraw ran on the first five plays then Easterling started slinging passes. He hit Brandon Parish with passes of 9 and 10 yards as they pulled into the red zone.
The drive was threatened at that point when Conway linebacker Darian Hill knifed through to stop Rycraw for loss. Bryant got a timeout with :01 on the clock, enough for one last play.
And the Wampus Cats got to see something the Hornets hadn't tried this season so far. Rycraw broke out of the backfield and down the middle of the field, hauling in a perfect pass for a last-second touchdown.
Denker booted it to 31-0.
"That gave us a little cushion," Calley noted.
And the Hornets were to get the ball to start the third quarter. They weren't able to take advantage as a third-and-2 play was stopped short by a yard.
Tanner Tolbert's first punt of the night was a short one and Conway had its best starting field position of the game at its 49.
With Harmon contributing runs of 16 and 10 yards and Acklin keeping for 22, the Cats quickly drove to their first touchdown. Acklin carried over from the 3.
The Hornets started an answering drive at their own 17 and worked it out to the Conway 34, keyed by a 26-yard completion from Easterling to Garland. Rycraw picked up 13 yards then the Hornets, running the option (another new wrinkle) got 10 more from Easterling as he kept.
The Hornets appeared to have gained an advantage through a pass interference penalty but their own penalty side-tracked the mark-off. Offsetting penalties left it second-and-10 and the Hornets just couldn't regain that momentum.
"Penalties — that's something that just eats at me, offsides and holding behind a play — it's just senseless and there's no excuse for it," declared Calley.
A swing pass to Rycraw was snuffed out by Conway linebacker Spencer Noggle for a loss then linebacker Rod Warren came untouched on a blitz and sacked Easterling at midfield.
Tolbert's punt left Conway deep in its own end this time but they marched 79 yards in 10 plays, using just two passes, to cut the lead to 31-14 with 1:06 left in the third quarter.
After driving to the Conway 44, the Hornets had to punt again and, with 10:47 left, the Wampus Cats marched to the Bryant 25, overcoming a sack by Hunter Mayall of Acklin with a pair of pass completions. Acklin hit Jalen Jones for 14 yards then Tristan Eddings for 14 more to the 27. Two plays later, the Cats faced a third-and-8 at the 25.
Acklin scrambled under Bryant pressure and appeared to be taking off to run. But he spotted a receiver in the end zone and pulled up and tossed the ball to him for an apparent TD.
But a penalty flag was on the field and Acklin was ruled to have been beyond the line of scrimmage when he threw and the touchdown was erased.
The Cats went to the fade route and, again, appeared to have a receiver open near the goal line only to have Watson sprint over and knock the ball down to end the night for the Conway offense.
Rycraw carried on nine straight plays to whittle the clock and increase his big night. After a 6-yard run reached the Conway 22, sophomore Jacob Powell took over and, on three carries, reached the 13 when time expired.
BRYANT 31, CONWAY 14
Score by quarters
BRYANT 14 17 0 0 — 31
Conway 0 0 14 0 — 14
Scoring summary
First quarter
BRYANT — Rycraw 6 run (Denker kick), 5:27
BRYANT — Garland 46 run (Denker kick), 3:01
Second quarter
BRYANT — Rycraw 2 run (Denker kick), 10:52
BRYANT — Denker 42 field goal, 5:43
BRYANT — Rycraw 28 pass from Easterling (Denker kick), 0:00
Third quarter
CONWAY — Acklin 3 run (Riner kick), 8:34
CONWAY — Acklin 1 run (Riner kick), 1:06
Team stats
BRYANT Conway
First downs 22 10
Rushing-yds 53-308 29-168
Passing 14-23-0 5-16-0
Passing-yds 152 50
Punts-avg. 3-27.0 5-39.6
Fumbles-lost 1-0 0-0
Penalties-yds 4-35 4-23
INDIVIDUAL STATS
Rushing: BRYANT, Rycraw 36-245, Garland 1-46, Powell 3-9, Easterling 8-7, Winfrey 1-2, Arnold 4-(-1); CONWAY, Harmon 15-121, Acklin 14-47.
Passing (C-A-I-Y): BRYANT, Easterling 14-23-0-152; CONWAY, Acklin 5-16-0-50.
Receiving: BRYANT, Parish 5-46, Garland 4-68, Rycraw 3-24, Heil 1-6; CONWAY, Eddings 3-30, Jones 2-20.