File photos by Kevin Nagle and Rick Nation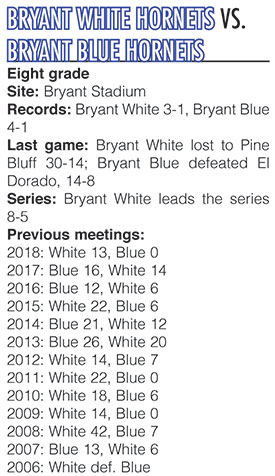 The 2019 Hornet Bowl, featuring the two Bryant eighth-grade football teams, is set for Thursday night at Bryant Stadium. For the first time, both teams are going to the same school, the new Bryant Junior High. But they continue to be separated bases on which middle school they attended: Bryant White from Bryant Middle School and Bryant Blue from Bethel Middle School.
The game will be preceded by the freshman contest between the unbeaten Bryant Hornets and the Little Rock Central Tigers, which will kickoff at 6 p.m.
It is the 14th Hornet Bowl. Bryant White, which won last year 13-0, leads the series 8-5. But Bryant Blue has won four of the last six games.
White will be the home team for the game and occupy the home sideline.
Both teams are playing well this season with just one loss apiece. They do have a common opponent, Conway Blue, which handed Bryant Blue its first loss of the season on Oct. 3, 29-8. One Sept. 19, Bryant White defeated Conway Blue, 20-12.
But Bryant White absorbed its first loss last week, 30-14, to Pine Bluff.
In the seventh-grade Hornet Bowl last fall, Bryant Blue forged a 20-2 victory.
All of which indicates, it should be a close game.
Here are the starting lineups: