Photos by Kevin Nagle
The seventh grade version of the Hornet Bowl took place at Bryant Stadium on Tuesday night with[more] the Bryant Blue team from Bethel Middle School earning an 8-0 win over Bryant White of Bryant Middle School. In a B game, Bryant White prevailed 20-8.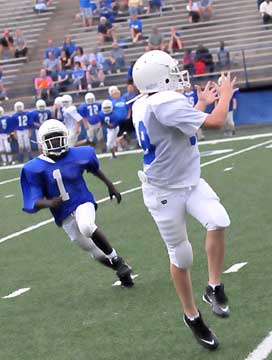 In the A game, the lone score came near the end on a pass from Desmond Duckworth to Sam Harrison. According to Blue coach Donaven Sims, running back Brandon Hunter rushed for about 85 yards in around 13 carries.
"With our large numbers at Bryant Middle I played the first team in the first half and the second team in the second half," said Bryant White coach Brad Smotherman of the A game. "And I thought both did real well. Our goal was to get as many plays as possible for the kids in preparation for Saturday's game versus Cabot.
"Obviously, these boys still have a lot to learn but we did have some pleasant surprises from some of the players," he added. "Some players showed things that we have not seen in practice and that's what is good about playing Bethel first. Both teams will play hard because it's against a lot of their friends, which makes for a fun atmosphere but allows both coaching staffs to truly see the players' abilities."
No official stats were kept for the games.
Bryant White hosts Cabot North at 9 a.m. on Saturday then Bryant Blue takes on Cabot South at 10.