Bonvillain nearly perfect as Hornets dismiss Central
EDITOR'S NOTE: Because the look back at each day in Bryant athletic history has been so favorably received during the time when there was no sports during the COVID-19 shutdown, BryantDaily.com will continue posting past stories of Bryant athletics either posted on BryantDaily.com (from 2009 to the present) or published in the Bryant Times (from 1998 to 2008).
For more photos from this event by Kevin Nagle, go here
Of the Little Rock Central Tigers' first nine outs in Tuesday's 7A-Central Conference game against the Bryant Hornets, seven of them came on strikes. For the first two frames, that was part of a pitchers' duel between the Hornets' Beaux Bonvillain and Central's Ty Barrett.
But after the Hornets scored seven times in the bottom of the third, all that was left to see was whether Bonvillain could finish off a no-hitter and a shutout as well as counting how many strikeouts he might end up with.
As it was, the no-hitter was broken up when Central's Aaron Mann led off the fourth with a bunt single. Still, Bonvillain wound up pitching to the minimum in the five-inning game. Mann was thrown out by catcher Jake Wright when he tried to steal. Bonvillain wound up with 10 strikeouts (out of 15 outs recorded) without a walk as he completed the shutout and the Hornets rolled to a 10-0 run-rule win.
"When Beaux's like that, we've got a chance against anybody," stated Hornets head coach Travis Queck. "That was pretty impressive. He had 10 K's and just 58 pitches. That's an excellent job.
"That's one of the things we're trying to preach to our guys," he noted. "You've got a chance if you throw strikes. We're not looking for strikeouts as much but we've got a chance if we throw strikes and that's what Beaux did. He just challenged the hitters."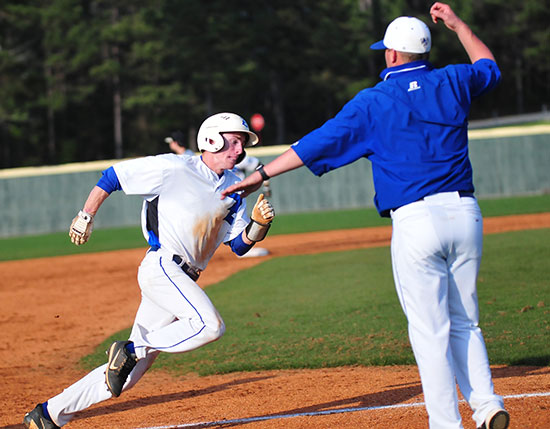 Bryant improved to 3-0 in the 7A-Central Conference and 10-4 overall going into Friday's trip to Fort Smith to play Southside.
The Hornets hammered out 12 hits including two each from Seth Tucker, Cameron Coleman, Myers Buck, Matthew Sandidge and Bonvillain. Tucker drove in four and Coleman two.
The Tigers continued to struggle this season but Queck was wary going into the contest, particularly coming off the team's annual spring break trip to Florida.
"These guys right here," he said of the Tigers, "I've sat there and watched them every year for the past four or five years in the State tournament compete with teams that are expected to win it all. Every word I got was that they were a scappy bunch. That's what I see from Coach (Rusty) Passini's group all the time. That scared me, with the young group we have.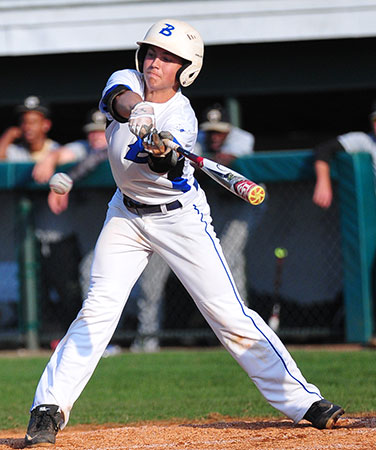 "We just happened to have a big inning," Queck added. "We opened the gates there and took advantage of what they gave us. That's on our guys for executing."
The coach added that, once again, the trip to Florida was good for the team.
"Florida is a great trip because we get an opportunity to play a bunch of guys in different situations against quality teams," he explained. "With a young group, it's priceless. We had some quality games down there. It's going to help us down the road."
Bryant played errorless defense highlighted by a sparkling short-hop play on a bouncer to Tucker at shortstop that preserved the no-hitter for the time being in the top of the third.
Barnett had the Hornets off stride over the first two innings as well, allowing only a two-out walk to Coleman in the first.
But the bottom of the Hornets' order ignited the offense in the third. Buck and Sandidge each singled to set the table. Wright, batting lead-off blooped a single to right to load the bases for Tucker who ripped a two-run single to right-center to break the ice.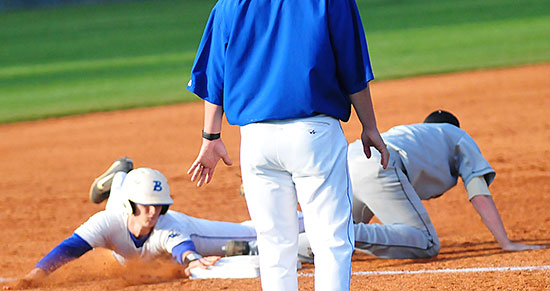 Coleman's base hit plated a run. He took second as Tucker drew a throw sliding in safely at third. Logan Chambers pulled a grounder to the right side to pick up an RBI then, with Coleman at third, Coby Greiner executed the squeeze to make it 5-0.
Scott Schmidt kept the inning going with a single to left then Bonvillain drove a single to center. Barrett and the Tigers appeared to be out of the woods when Buck hit a fly to left. But the ball was dropped and both Schmidt and Logan Grant, running for Bonvillain, were able to score to cap off the inning.
To start the bottom of the fourth, Tucker drew a four-pitch walk off of Central reliever Ben Farzley. He stole second and eased home when Coleman burned the center fielder for a triple. Though he was stranded, the Hornets led 8-0 going into the fifth.
Bonvillain wrapped up his day of work by strikeout out two in the top of the inning. He then started the game-ending uprising with another single. Buck's second hit followed. Grant stole third and Buck was able to take second on a pitch in the dirt. Central catcher Mason Gresham pounced on the ball to keep Grant at third.
With one out, Wright was issued an intentional walk to set up a doubleplay possibility but, on the very next pitch, Tucker plugged the gap in left-center for an RBI double that ended it.
Bryant returns to league action this Friday when they travel to Fort Smith Southside.