Photos by Kevin Nagle
Clay Crawford scored what proved to be the winning run in the top of the[more] sixth and the Bryant 6-year-old All-Stars held the Sylvan Hills Razorbacks scoreless in the bottom of the inning as Bryant started District Tournament play 2-0 last weekend.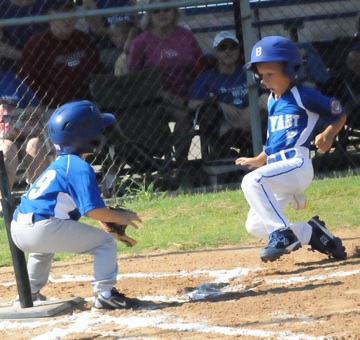 The 15-14 win came in conjunction with a 12-1 win over the Sylvan Hills Bears.
The 6-year-old team includes Reid Catton, Clay Crawford, Tucker Dunn, Mathew Griffe, Grant Johnson, Logan Hope, Carson Kemp, CJ Nagle, Logan Owen, Chase Small, Dillion Stroud and Daniel Taylor. It's managed by Joey Small with assistance from Jonathan Hope and Michael Stroud.
With the score tied 14-14, Johnson opened the top of the sixth with a base hit. Crawford followed with a shot for extra bases but when Johnson tried to score he was thrown out at the plate. Moments later, however, Crawford scored to put Bryant ahead to stay.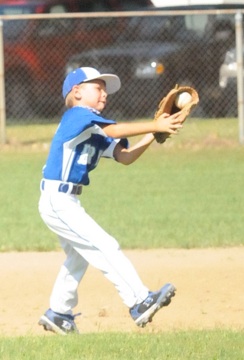 Sylan Hills managed to get a pair of runners aboard with one out in the bottom of the inning but Bryant made the plays to get out of the inning with the lead intact.
Bryant jumped out to a 5-0 lead in the top of the fifth when Dunn, Hope, Taylor, Stroud and Kemp ripped consecutive hits. An out later, a base hit by Catton and another by Griffe capped the scoring.
Sylvan Hills answered, however, with six in the bottom of the inning to gain the lead. And when Bryant was unable to dent the plate in the second, Sylvan Hills added a run in the bottom of the frame to make it 7-5.
A two-run third tied the game. Hope and Taylor had one-out hits and, with two away, Kemp came through with a double to chase both home.
Sylvan Hills added a run in the home third only to have Bryant strike for five in the top of the fourth. After the first out of the inning, Griffe started the hit parade. Owen and Johnson followed, loading the bases for Crawford who drove in two with a hit to right-center. Small came through with a hit and, with two down, Hope doubled to make it 12-8.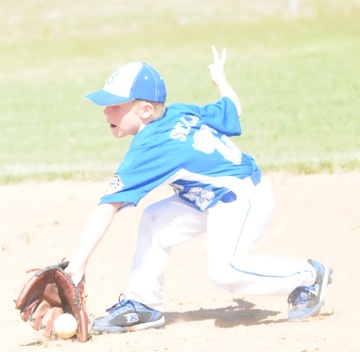 Sylvan Hills managed to cut two runs off the lead in the bottom of the fourth but Bryant got those back in the top of the fifth on hits by Stroud, Kemp, Nagle and Griffe.
In the bottom of the inning, Sylvan Hills rallied to tie the game setting up the dramatic finish.