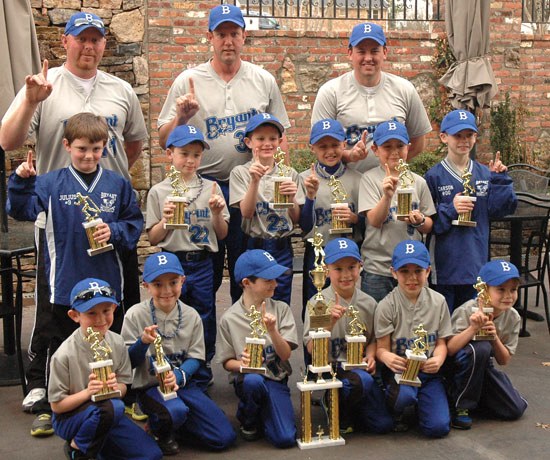 Photos courtesy of Val Nagle
CONWAY — After going 2-0 on the first day of a tournament in Conway, the Bryant 7-year-old[more] All-Stars were awarded the tourney title when Sunday's games were washed out by rain. The Bryant team had earned the No. 1 seed for Sunday's single-elimination tournament round.
Members of the team include Brady Brower, Reid Catton, Clay Crawford, Gage Horn, Aiden Hughes, Dylan Hunt, Grant Johnson, Carson Kemp, Julius McClellan, C.J. Nagle, Aden Palmer and Aden Stovall. The team is coached by Kevin Nagle with assistance from Jeremy Stovall and Richard Palmer.
On Saturday, Bryant out-slugged the Arkansas Prospects, 12-7, and blasted the Arkansas Legends, 11-3.
The Legends opened up with a 1-0 lead in the top of the first but Bryant answered with three in the home half. One-out singles by Johnson and Nagle got things started. Johnson wound up scoring all the way from first on the play, tying it up. Nagle took second on a grounder to short by Kemp. He scored when Catton reached on an infield hit. Palmer bounced a single up the middle and Catton came around to score ahead of an infield hit by Stovall, making it 3-1.
In the home second, Bryant busted loose with five runs. Singles by Brower, Hunt and Hughes filled the bases for Horn, who ripped a double to left to plate two. Johsnon's hit knocked in Hughes then Nagle singled in Horn to make it 7-1. Johnson would score on the throw back to the infield.
A two-run third had the Legends within 8-3 and it stayed that way until the fourth when Bryant put the game out of reach with a two-out uprising. Singles by Johnson, Nagle and Kemp loaded the bases for Catton, who drilled a double to center to plate a pair. Palmer knocked in Kemp with a base hit to set the final score.
Against the Prospects, Bryant grabbed a 4-0 lead in the home first and never trailed. Horn, Johnson, Nagle and Catton each singled and scored in the inning. Palmer and Crawford had hits as well.
The Prospects managed a pair of runs in the top of the second only to have Bryant get those back in the home half when Hunt, Hughes, Johnson, Nagle and Kemp banged out hits.
Trailing 6-2, the Prospects whittled two more runs off the margin in the top of the third but this time Bryant did more than match them. Stovall singled but was forced at second as Crawford reached. With two down, Hunt started a hitting spree that would produce six runs. Hughes, Horn, Johnson, Nagle, Kemp and Catton cracked hits and the lead grew to 12-4.
So, when the Prospects could only get three in the fourth, Bryant had the win in the bag.