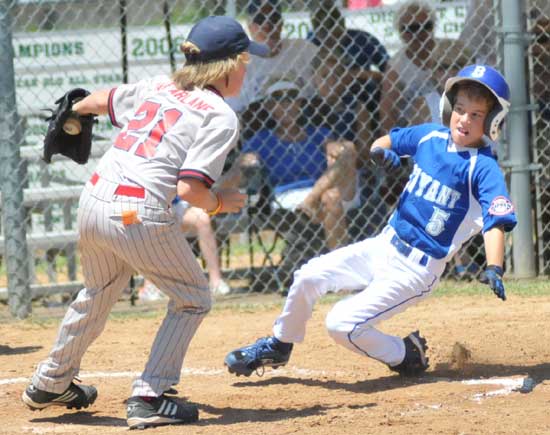 The Bryant 9-year-old All-Stars cruised to an easy 14-2 win over Hot Springs in the district tournament on Sunday, June 27, to advance to the championship game on Tuesday night against the winner of Monday's Benton-Hot Springs game. Game time on Tuesday is 6 p.m. at Bryant's Ashley Park.
The Bryant 9-year-old All-Star team is made up of Logan Chambers, Logan Grant, Nathan McFarland, Ryan Lessenberry, Cade Dupree, Coby Greiner, Logan Catton, Jake Cowell, Will McEntire, Sawyer Holt, Garett Nguyen, Hunter Mullings, and Chandler Taylor. The team is managed by Michael Catton with assistance from Phillip Dupree and Madison McEntire.[more]
After McFarland, Bryant's starting pitcher, retired the side in the top of the first (including two strikeouts), Bryant batted around and scored the maximum six runs. The keys plays were a single to center by Dupree that scored Chambers, a single to center by Greiner that plated both McFarland and Dupree, a grounder to second by Nguyen that scored Greiner (and then Lessenberry on the second baseman's throwing error), and a line drive single to left by Holt that brought Grant in with the sixth run.
Again McFarland shut down Hot Springs in the second (including two more strikeouts) and Bryant batted around again posting six more runs. Mullings singled and took second on a throwing error. After Chambers' groundout to first base moved Mullings to third, McEntire grounded out to the pitcher, with Mullings scoring on the play.
Dupree then singled sharply up the middle and came around to score on three wild pitches. Greiner walked and moved to second on a single by Cowell. Grant then singled to left, bringing in Greiner and sending Cowell to second. A walk to Nguyen loaded the base for Holt who walked to force in Cowell. With Mullins at the plate, Grant scored on a wild pitch and then Mullings' grounder to second was mishandled, allowing Nguyen to cross the dish with the sixth run. Bryant held a 12-0 lead.
McEntire took over on the mound in the third and hurled a scoreless inning, striking out the first two batters. In the bottom of the inning, Bryant increased their lead to 14-0. Chambers walked and McEntire reached on error by the Hot Springs shortstop. Chambers later came home on a solid single to center by Greiner and then McEntire tagged and scored on Grant's fly ball to center.
Hot Springs finally got on the board with two runs in the top of the fourth inning. They capitalized on a Bryant error, two walks and two hit batters to make the final 14-2.
(TO PURCHASE THESE PICTURES BY KEVIN NAGLE AND SEE OTHERS, CLICK ON A PICTURE.)