Fore more photos from this event by Kevin Nagle, go here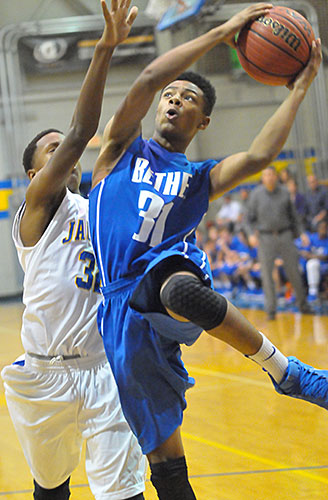 SHERIDAN — The Bryant Blue Hornets eighth grade team of Bethel Middle School rushed to a 29-13 lead by halftime and, with the help of late free throws from Demetrius Sanders, Zach Foote and Jaylen Williams, held on for a 49-39 victory over the Sheridan Yellowjackets eighth grade team on Tuesday night at Oliver Williams gym.
It was the Hornets' first win of the season after a tough 50-25 loss to Baptist Prep on Monday in the first round of a tournament at the Anthony School in Little Rock.
"The kids played hard tonight for the entire game," said Hornets coach Steve Wilson. "I felt that Monday night we got our heads down and let one or two mistakes snowball. We played the entire game tonight. We didn't let up even when we got ahead by double figures. We were able to handle their press the entire game."
Sanders finished with a game-high 17 points including 14 in the first half. Sanders finished with 13, Isaac Devine 9 and Foote 7. Brooks Edmonson added 2 and Chase McCormick 1.
The Hornets, behind 8 points from Williams, took a 16-8 lead in the first quarter. Williams hit two more triples and Devine connected for the first of his trio of treys in the second quarter as the lead grew to 16 points.
It was 34-22 going into the fourth quarter.
The Hornets return to the Anthony School tourney this evening at 4:30 p.m., against the host team.
In Monday's game, the Hornets rushed to an 11-5 lead in the first quarter but Baptist Prep surged to take a 20-18 lead at the half. Baptist Prep took control of the game in the third quarter when they outscored Bryant Blue, 18-7.
Sanders had 8 in the game. Williams scored 5, Edmonson 4 and McCormick and Foote 3 each. Joshua Blackmon added 2.