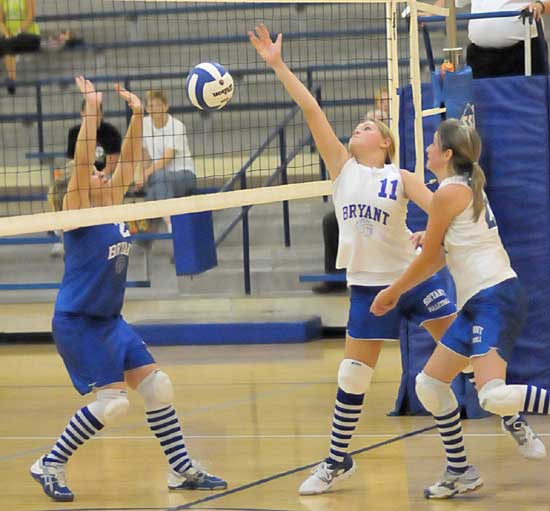 Photos by Kevin Nagle
The Bryant White Lady Hornets eighth grade volleyball team of Bryant Middle School got off to a fast start but the Bryant Blue Lady Hornets of Bethel Middle School finished strong to prevail in a tight, tough showdown on Thursday, Sept. 9.
After Bryant White won the first game 25-22, the second game was a war that Blue survived, 28-26. The close competition continued into the third game which Blue won 15-12.
Blue also won the seventh grade match, 25-17, 21-25, 15-10.[more]
"The girls showed a lot of heart," commented Blue coach Melissa Bragg. "I was proud of them coming back and winning that match.""It was another close one for us," said White coach DeAnna Ward. "We have so many talented girls, I was able to get everyone some playing time. Wow, it's hard to believe we lost when we had so many girls contribute."
The Bryant Blue Lady Hornets eighth grade team includes Anna Blair, Julie Brazil, Nikki Clay, Brianna Davis, Haley Dellis, Mercedes Dillard, Katelyn Giffin, Sydney Gogus, Emily Henson, Devin Hester, Jamie Jamison, Madison Jones, Camille Langley, Mackenzie McEntire, Rachel Phillips , Rylee Phillips and Allysa Sturgeon.
The Bryant White Lady Hornets eighth grade team includes Mariah Aguilar, Jayla Anderson, Haley Collins, Claire Henderson, Madison Krick, Taylor Lindberg, Brittany McDonald, Makayla Nguyen, Alexis Parsley, Jessica Reese, Charli Sahr, Sarah Shepard, Abby Staton, and Jordan Tarvin.
Both eighth grade teams were set to play at a tournament in North Little Rock on Saturday, Sept. 11, before returning to regular-season action. Bryant Blue host Conway Blue on Monday, Sept. 13. Bryant White hosts Cabot South on Monday, Sept. 20.
The eighth grade match began with Sahr serving for seven straight points for Bryant White.
"Charli put on awesome serving display going 12 of 16 for the night with two aces," Ward noted.
"She was close to unstoppable," Bragg agreed.
After an eventual side-out, it went back and forth, Bragg said. "We had trouble keeping our serve. Rylee Phillips served points 5 through 8 which was our longest streak."
"Abby Staton was 4 of 4, Makayla Nguyen was 2 of 2 and Alexis Parsley was 3 of 3. Anytime you have three girls that are 100 percent from the serving line, you have to be excited," Ward mentioned.
"The second game, Emily Henson started us off strong with an ace," Bragg related. "Unfortunately, we couldn't keep her serve after that. Mercedes Dillard served for points 3 through 7, the longest of the second game. Allyson Sturgeon helped us by serving points 12 through 14.
"There were some long volleys during that game," she added. "We were able to hold on for the win."
Bragg credited Clay and Gogus with serving well in the third and decisive game of the match.
For Bryant White, Sahr added two kills and an assist. Staton added a kill along the way as well.
"Taylor Lindberg had a strong night going 3 of 6 serving with five kills and an assist," Ward said. "Jayla Anderson also had a big night with 4 of 5 serves, an ace, a kill and two assists."
In addition, McDonald went 3 of 4 in service with an ace, adding a pair of kills. Jordan Tarvin went 3 of 5 serving.
"Jordan had an awesome diving save to keep us alive in the second game," Ward noted. "Jessica Reese is getting more consistent with her setting. She had three assists."
Of the seventh grade match, Ward said, "The girls are showing lots of promise for the future. They have been coming on strong just in the few short weeks we have been in school."
Ward reported that, against Blue, Sierra Jones was 7 of 9 from the serving line with two aces. Hailey Gentry was 5 of 6 and Skylar Davis 4 of 5. Miranda Mayfield was 4 of 6 with an ace and Julianna Ward was 3 of 6 with an ace.
For Bryant Blue, Britney Sahlman served for 7 points and Peyton Ramsey for 5 in the first game. Kara Moser and Ashlyn Taylor both served for 4 points in the second, and Skylar Harper served for three in the third.
"I was very proud of the girls," Bragg said. "They are constantly improving in practice and it was good to see it pay off."
The two Bryant teams play again on Sept. 14, at Bethel.