Photos courtesy of Julie Shelby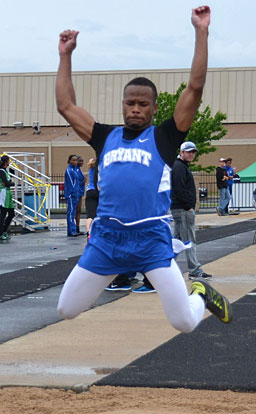 CONWAY — The Bryant Hornets picked up victories in 10 different events on their way to a dominating victory at the rainy 7A-Central/East Conference Track Championships at Conway High School on Friday. The Hornets, led by high-point award winner John Winn, scored 221.6 points. Conway earned runner-up honors with 146 points, followed by Cabot (74.20), West Memphis (52), LR Central (50), North Little Rock (48), Van Buren (36.20), and LR Catholic (29).
"Coach (Brad) Stroud and I couldn't be any prouder of how the boys did today," stated Hornets head coach Steve Oury. "I was very anxious about how we would handle the role of being the favorites, but the guys rose to the occasion. I'm also very grateful to the coaches and athletic director at Conway for working so hard to make sure we could get this meet in without interfering with ours and Cabot's proms on Saturday night.
"This group of seniors is truly special and it was wonderful to see them shine today," he continued. "I'm not sure if any boys teams have ever won a conference championship in track at Bryant until today, but these seniors made sure that it got done.
"Mar'Kevius Nelson set the tone early with a phenomenal 45'5.5" triple jump and then John Winn, Steven Murdock, Brenden Young, and Justin Combs kept it rolling with victories in their events," the coach said. "I was also very glad to see Mark Winn run a very good race in the 800 after being injured for all of the outdoor season. I know I'm going to miss these guys next year but I'm grateful for all they've done so far."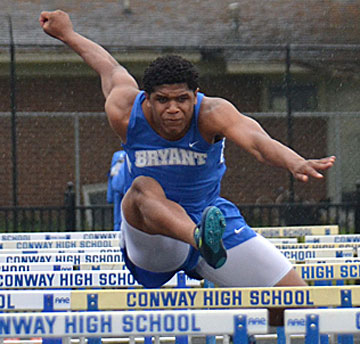 John Winn was one of three Hornets to pick up victories in multiple events. He won the 100-meter dash in 11.15, the 400-meter dash in 49.34, and the 200-meter dash in 22.33. His time in the 200-meter dash tied his own school record in that event. Winn also teamed up with Murdock, Young, and Pierce Finney to win the 4×400 relay in a time of 3:28.22.
Nelson picked up victories in the triple jump and the long jump. His winning effort in the triple jump beat his own school record and was over four feet ahead of second place. He then won the long jump with a leap of 21'4".
Young earned a double victory in the hurdle races, winning the 110 meter hurdles in a time of 15.39, and the 300 hurdles in a time of 40.94.
Also earning victories for the Hornets were Combs in the pole vault (13-0) and Charlie Terry in the 3200-meter run (10:06.06).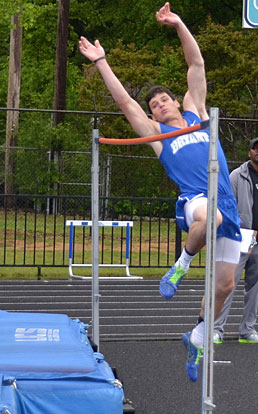 "We qualified a lot of athletes for State," Oury related. "The only hiccup was a dropped baton in the 4×100 relay, which does hurt us since we did not qualify for State during the season in that event. However, we have athletes qualified in all 16 other events so hopefully we can make up for that potential loss of points."
Other scorers for the Hornets were:
Murdock – 400-meter dash – 2nd  – 49.99; 200-meter dash – 2nd – 22.82
Dany Murillo – shot put – 2nd  – 43-7.25; discus – 3rd – 110-07
Finney – long jump – 2nd – 19-11; 400-meter dash – 5th – 52.50; high jump – tied 6th – 5'4"
Mark Winn – 800-meter run – 2nd – 2:01.35
Raphael McCuien – 300-meter hurdles – 3rd – 42.92; 200-meter dash – 8th – 24.44
Joe Sartini – 800-meter run – 3rd – 2:02.85
John Carder – 3200-meter run – 3rd – 10:29.67
Nicholas Schmidt, Dru Wen, Sartini and Terry – 4×800-meter run – 3rd – 8:32.95
Devon Davis – long jump – 4th – 19'3.5"
Madre Dixon – discus – 4th – 108'08"; shot put – 5th – 41'1″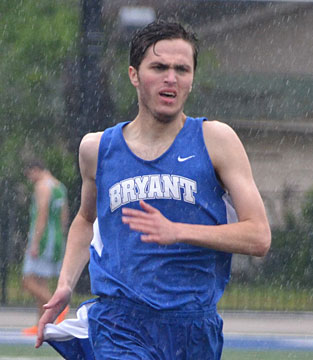 Terry – 1600-meter run – 4th – 4:38.56
Landon Abernathy – 110-meter hurdles – 5th – 16.39; 300-meter hurdles – 5th – 43.29
Nelson – high jump – tied 6th – 5'4"
Dalton Long – high jump – tied 6th – 5'4"
Devon Waite – shot put – 6th – 39'7"
Jacob Loomis – 110-meter hurdles – 6th – 17.76
Schmidt – 3200-meter run – 6th – 10:48.01
Wen – 1600-meter run – 7th – 4:51.06
Eric Stewart – 3200-meter run – 7th – 10:51.93
Tommy Wedge – discus – 8th – 101'3"
Drew Carnahan – 110-meter hurdles – 8th – 18.40
Derek Vos – 1600-meter run – 8th – 4:52.09
The top 6 finishers in each event qualify for the Class 7A State meet. The top 3 finishers were named All Conference.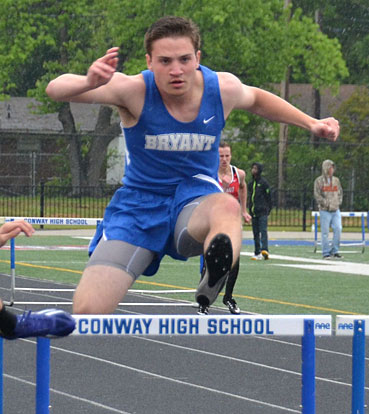 "Coach Brad Stroud has done a great job with our jumpers all year, as has Coach John Orr with our throwers," Oury mentioned. "Also, Coach Keith Dale has really helped our hurdlers and vaulters, and it's always great to have Coach Danny Westbrook around to discuss workout plans and strategy with. It's been a total team effort.
"On Monday, we have to come in prepared to start working toward the 7A State Meet, which is on May 7 in Fayetteville," he said. "As we learned last year and the year before, the 7A West is a different animal so we understand that we would not be scoring over 200 points in that conference. We will need to be at our absolute best to have a chance to keep up with teams like Bentonville, Rogers, Har-Ber, and Fayetteville."