Photos courtesy of Julie Shelby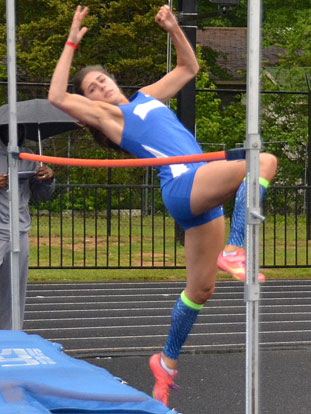 CONWAY ­— The Bryant Lady Hornets won three event titles on their way to a runner-up team finish at the 7A Central/East Conference Track Championship Friday. Cabot won the meet with 193 points followed by Bryant (135), Conway (96), Van Buren (74), West Memphis (56), LR Central (51), North Little Rock (31), and Mount St. Mary Academy (24).
Junior Haley Hood won the high jump title with a leap of 5'0″.
Junior Hannah Shelby won the 3200-meter run title with a time of 11:54.
Bryant's 4×400-meter relay team of Talyn Billins, Jadyn Lewis, Rachael Owens, and Hood also won the conference title with a time of 4:11.5.
Hood scored a team-high 30.5 points. Along with her high jump and relay titles, she added a second-place finish in the 300-meter hurdles (46.56), third-place finish in the 100-meter hurdles (16.67), and a fifth-place finish in the 200-meter dash (27.4).
Lewis, a sophomore, contributed 20.5 points. She was a member of the winning 4×400-meter relay team. She added a second-place finish in the 400-meter dash (1:01.0). She also finished fourth in both the 100-meter dash (13.2) and the 200-meter dash (26.9).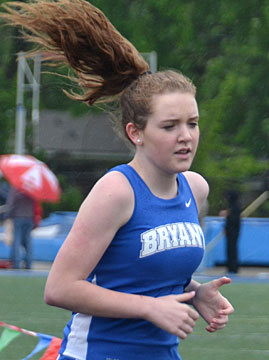 Owens, a senior, scored 14.5 points. Along with her contribution to the winning 4×400-meter relay, she took second-place in the high jump (5'0″), and seventh-place in the 400-meter dash (1:04.2).
Shelby added 12 points. She ran a personal best time in her 3200-meter run victory and she was also a member of the 4×800 relay team that finished third.
The Lady Hornets' throwers contributed 18 points. In the discus, all four of Bryant's entries scored. Serenity Bridges took third (93'5″), Jenna Freeman (4th, 91'3″), Jordan Tarvin (5th, 90'3″), and Kaycee White (7th, 6'6″). White also added an eighth-place in the shot (29'6″).
Other scorers for Bryant:
3200-meter run – Rachel  Curtis – 3rd – 12:41; Lauren Ackley – 8th – 13:16
4×800-meter relay – Caitlyn Bell, Shelby, Curtis, Billins – 3rd – 10:09.4
100-meter hurdles – Jayla Anderson – 4th – 17.4; Reagan Smith – 8th – 18.2
800-meter run – Billins – 5th – 2:33
1600-meter run – Bell – 4th – 5:41; Rachael Curtis – 7th – 5:49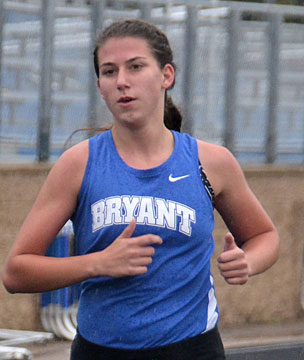 Pole Vault – Bree Hood – 5th – 7'6″; Sydney Wilson – 6th – 7'6″; Alyssa Rowland – 7th – 6'6″
4×100-meter relay – Anderson, Smith, Bree Hood, Owens – 6th – 53.6
The top 6 finishers in each event qualify for the Class 7A State meet at Fayetteville on May 7. The top 3 finishers were named All Conference.
"I was very happy with our effort and intensity today under very adverse conditions," said Lady Hornets head coach Danny Westbrook, referring to the wet weather. "My hat's off to Cabot, they are a very good team. I think they have a solid chance at bringing the State title back to central Arkansas this year.
"I thought Haley Hood, Jadyn Lewis, Rachael Owens and Hannah Shelby all had outstanding performances today," he added. "We qualified athletes to the State meet in 14 of the 17 events, so I feel like we can definitely make our presence felt when we get there."