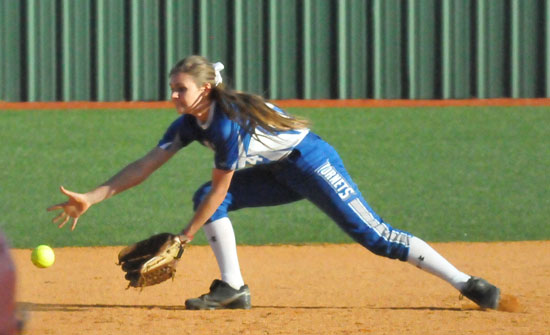 Photos by Kevin Nagle
By Bridget Bauer
BENTON — Bryant sophomore pitcher Jordan Williams redeemed herself Friday against the Benton[more] Lady Panthers. Although the Lady Hornets suffered a 7-0 setback, Williams pitched three scoreless innings and allowed just one hit.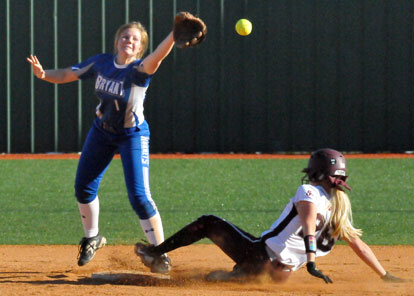 In the first meeting between the rivals, she gave up eight runs, yielded five hits, struck out two and walked five batters in 2 2/3 innings. She hasn't pitched significant varsity action since March 26 when she threw the second game of a doubleheader at J.A. Fair in which both contests were run rules.
Friday, she faced 11 batters and struck out three while walking just one. The lone hit was a bunt laid down the first-base line. Of the six batters who hit the ball and were out, only two of those went out of the infield.
"I'm so proud of her," Bryant Coach Debbie Clark said. "She has been pitching JV, and she and I were talking about it. She told me she appreciated the chance because it gave her time to carefully reflect and better understand what she was doing. This is the Jordan I saw last year at the State finals."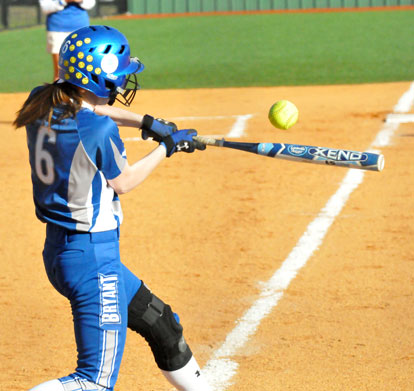 Williams' performance was the highlight of the game. Although, Bryant (8-8, 4-3 6A-South) didn't do well offensively with just one hit, Clark did see some good things in the game.
"Defensively, we were able to hold them and make plays," she said. "We can build on that."
Clark was perplexed why the offense was stagnant. The Lady Hornets hit before the game and worked on what Benton pitcher Jessica Franklin would throw at them. Normally able to reach base on bunts, that aspect also wasn't working. Kaley Coppock accounted for the Lady Hornets' lone hit when she hit a hard ball to Franklin, and it ricocheted off her. Four players did reach on walks with Kayla Jolley notching two base on balls along with Katy Stillman and Brianna Davis, who also went to first on an illegal pitch.
"We aren't considered power hitters," Clark said. "I'm still trying to put together a group in the lineup so we can have a big inning, and if not every other then every third."
Sophomore Abby Staton started the contest for Bryant and relinquished two runs in the first frame and one in the second. A four-run third was what did in the Lady Hornets. Jolley took over, and although she was frequently ahead in the count, she allowed five hits including two doubles. Benton scored one of its runs on an error.
"Kayla always tries to do her best," Clark said. "She is not a strikeout pitcher, and her ball doesn't move like Jordan's."
The Lady Hornets play a doubleheader at Pine Bluff on Thursday, April 18, then a rescheduled contest at home with Lake Hamilton on Friday.