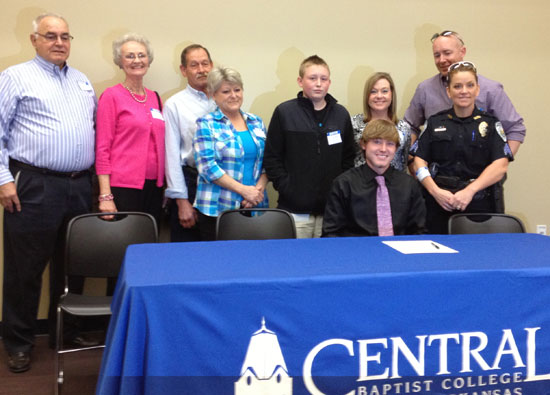 By Rob Patrick
Soccer has been a part of Chase Stuart's life for as long as he can remember and, as of Friday, it[more] will continue to be so at an even higher level. Along with Bryant Hornets teammate Justin Travis, Stuart signed a letter of intent to continue his athletic and academic career next fall under scholarship at Central Baptist College in Conway.
"I started (playing) when I was 3 of 4 years old," Stuart said. "My dad used to play in high school and college and he played indoor in Memphis when he lived there. So it's always been a part of my life. I think I've only missed two seasons, one because of basketball and another because of injuries."
Asked when he realized this day could happen, he answered, "Probably when I was 11 or 12 when I actually started playing Classic soccer. I started playing with this group of guys, (former Hornets) Alex Rowlan, Ryan Watson, and Justin. I've been playing with Justin since I was 2 so it's always been something to feed off of and to match up with, with what we've been doing."
"Chase possesses the one thing you can't coach and that's speed," said Hornets coach Jason Hay. "Unfortunately, he's been hurt most of the season with a hamstring. I feel bad for that but at least he's going to get a chance to continue on in college."
Though his time has been limited, Stuart has played a roll in helping lead the Hornets to a 13-1-1 mark so far this season. They were 8-0 in the South Conference going into Friday night's showdown with the rival Benton Panthers. The regular season concludes on May 3.
"Chase's speed — he's been blessed with lots of speed and talent," mentioned CBC head coach Justin Hawkins. "The big thing with him is just understanding the system that we play. I think once he learns that, he's really going to help us because, like I said, you can't coach speed.
"I was familiar with them when the season started," he continued. "They got a chance to train with our guys and they played at the same level that our guys did. I knew they could play college soccer.
"With the NAIA, they can get two training sessions in and they did," Hawkins said. "Both those guys jumped up right away. And because of that experience, I think they can contribute immediately as freshmen.
"They took a tour of campus," he continued. For college kids we want to know, at the end of the day, for us, it takes everything. It's going to class, doing well in social activities and stuff like that, and, as far as soccer, they have to know that all of that is part of it. I think they fit right away with all of that experience. That's what I want to do so, when they make a decision, they know everything that goes along with it.
"I started the program eight years ago so it's kind of been my program," the coach concluded.
"I started from scratch and was able to grow it from here. It's been nice. We've been able to grow from being just a Christian school to being a part of the NAIA also. We just kind of keep growing."
Said Stuart, "I looked at a few other schools but CBC was one of the ones that really followed through with what they said they were going to do and help out with. It was really a no-brainer, especially with it only being 45 minutes from Bryant.
"I really like how it's a small school and it excels above the academic realm and athletics as well," he added. "Being private, it's really got kind of an air of more of a polished school than one of the bigger universities we've had the chance to go to."
Asked what had been the key to his development into a college-level player, Stuart said, "Coach Hay made me work really hard. I didn't know I had it in me, especially the endurance part. I've always been a speed guy. He's helped me with my touch a lot and being able to get through the full 80 minutes of play that we do in high school soccer."