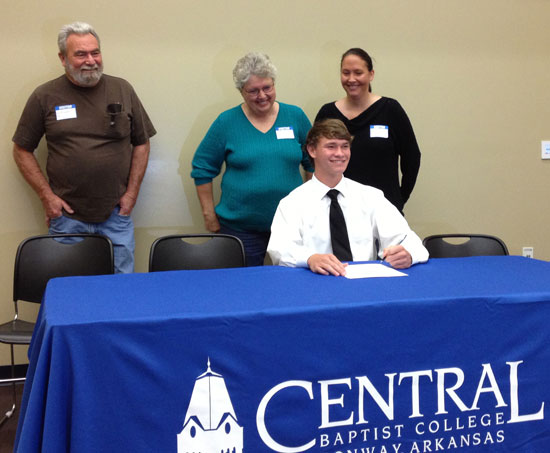 By Rob Patrick
When Bryant senior Justin Travis visited Central Baptist College and worked out with the soccer[more] team and head coach Justin Hawkins, he just seemed to fit right in.
"It was comfortable," Hawkins related on Friday, when Travis and Hornets teammate Chase Stuart officially signed to continue their soccer careers and education at the Conway school.
Travis, a key part of the Hornets' program for four years, was named to the all-State Tournament team for his play against the Rogers Mounties in last year's Class 7A State Tournament.
"
Justin (Travis) has always been a leader on the team but this year, after the loss of all the seniors last year, he's stepped up and is contributing more than he has in the past," related Hornets coach Jason Hay. "He's had a great year. He has a good head on his shoulders."
Travis and Stuart have helped lead the Hornets to a 13-1-1 mark so far this season. They were 8-0 in the South Conference going into Friday night's showdown with the rival Benton Panthers.
"I saw Justin with the ODP (Olympic Development Program) for the state of Arkansas so I was familiar with him when the season started," said Hawkins, who also knew of the Bryant duo for their play as juniors. "They got a chance to train with our guys and they played at the same level that our guys did. I knew they could play college soccer.
"With the NAIA, they can get two training sessions in and they did," he continued. "Both those guys jumped up right away. And because of that experience, I think they can contribute immediately as freshmen."
Travis commented, "I talked to many other schools but I really liked CBC because it's close to home. The campus is really nice. From what I've heard, they've got good teachers. It's pretty much a new campus. They've been rebuilding a lot of buildings."
"They took a tour of campus," Hawkins noted. "For college kids, we want to know, at the end of the day, for us, it takes everything. It's going to class, doing well in social activities and stuff like that, and, as far as soccer, they have to know that all of that is part of it. I think they fit right away with all of that experience. That's what I want to do so, when they make a decision, they know everything that goes along with it.
"I started the program eight years ago so it's kind of been my program," he explained.
"I started from scratch and was able to grow it from here. It's been nice. We've been able to grow from being just a Christian school to being a part of the NAIA also. We just kind of keep growing."
Of Travis, the CBC coach said, "His ability with the ball in one-v-one situations is a great thing that we need as an outside mid. That's an area we were really lacking this last year on the team. With him coming in, right away it means we can do something with him."
Travis said he's been playing soccer since he was 4.
"I've been kicking a soccer ball since I've been able to walk it seems like and I've always loved it," he said. "When I was young, I always figured I could (play in college). Then, as I've grown up, I didn't always start but I've always worked hard and progressively gotten better. It's just worked out great. I'd say I knew I was going to play college soccer when I was about eighth grade."
He credits his high school coach with helping him make it happen.
"I've really enjoyed being here at Bryant," Travis said. "Coach Hay's an extremely good coach. No one would make me work harder than him. If it had been any other coach, I'd have been half-working, not working to my full potential. He's really brought the best out of me."