Editor's note: This is a regular feature profiling senior athletes at Bryant High School.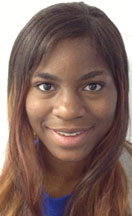 NAME: Gabby Allen
PARENTS: Jojeanna Allen and Gabriel Allen Sr.
SIBLINGS: Yes, 11. Yohan, Ariel, Kaira, Keira, Kaera, Alajah, Byron, Gabe, Yonni, Khennedi.
FAVORITE SUBJECT IN SCHOOL: English
FAVORITE SPARE TIME ACTIVITY: Write poetry, write songs, sing and dance.
FAVORITE FOOD: Chicken.
FAVORITE MUSIC ARTIST OR GROUP: R&B and Hip-Hop[more]
FAVORITE MOVIE: Love and Basketball
FAVORITE TV SHOW: Third Watch
WHAT WAS YOUR FAVORITE TOY AS A KID? Teletubbies.
WHAT ARE YOUR PLANS AFTER HIGH SCHOOL? Be a nurse.
OTHER THAN YOUR PARENTS, WHO'S HAD THE BIGGEST INFLUENCE ON YOUR LIFE? HOW? My teachers; they've influenced me to do better in school and keep my head high.
WHAT'S YOUR FAVORITE THING ABOUT TRACK? I just like to run.
EVENTS? 4×100, 100, 200 and 60.
WHAT APPROACH DO YOU TAKE TO YOUR EVENTS? Run faster. Sometimes I sing my favorite song in order to prepare for an event, or I pray.
WHAT DO YOU THINK OF THE SEASON SO FAR? For the team, it's going good but I think I can score a lot more myself because I am not placing.
WHAT'S BEEN THE HIGHLIGHT TO THE SEASON SO FAR? Winning.
WHAT'S IT GOING TO TAKE FOR THE TEAM TO BE SUCCESSFUL AT THE REST OF THE SEASON? To stick together as one and to be better prepared.
TALK ABOUT YOUR EVENT NOW; WHAT DO THINK IS YOUR BIGGEST ASSET? WHAT ARE YOU MOST CONFIDENT IN YOUR ABILITY TO DO? 4×100.
WHAT DO YOU WORK HARDEST IN PRACTICE TO IMPROVE ON? I need to work on my form. If I can improve my form, I can be a lot faster.
WHEN YOU'RE THROUGH RUNNING TRACK AT BRYANT HIGH SCHOOL, WHAT DO YOU THINK YOU'LL LOOK BACK AND REMEMBER MOST FONDLY ABOUT THE EXPERIENCE? That we won almost every meet; I mean, we were always in the paper. And breaking records; we broke three records. I'm going to remember that. I'm going to tell my kids, "Hey, if you go over there and look on the wall, mommy's name's up there."