Bryant finishes second to Conway in girls conference meet
EDITOR'S NOTE: In this time of COVID-19, with no sports action, BryantDaily.com will be posting past stories of Bryant athletics either posted on BryantDaily.com (from 2009 to the present) or published in the Bryant Times (from 1998 to 2008).
For more photos of this event by Kevin Nagle, go here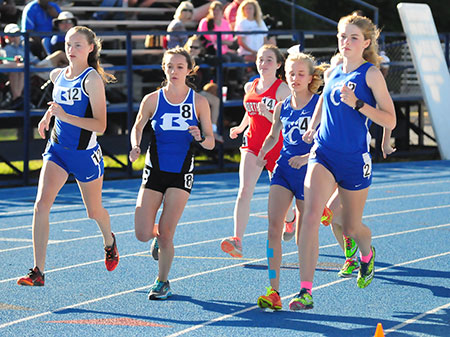 The 4×400-meter relay team of Megan Lee, Zhania Hall, Zeia Robinson and Maggie Laws turned in a winning time of 4:07.94 to highlight the performance of the Bryant Lady Hornets at the 7A-Central Conference track and field championships held at Bryant Stadium on Thursday night.
The Lady Hornets beat out Conway (4:10.30) in that event but the Lady Cats won the team championship with a whopping 288.5 points. Bryant was second with 144.5 points followed by Cabot (76), North Little Rock (48), Fort Smith Southside (35), Little Rock Central (21), Fort Smith Northside (17) and Mount St. Mary Academy (5).
Second-place finishes were turned in by Kayla Scott in both hurdles races and Taylor McKinney in the discus. Scott's 48.25 in the 300 was second to Taylor Conway of Conway at 45.64 with Bryant's Malori Pendergrass fourth in 52.69, Cassie Ray fifth in 53.70 and Deborah Shaw eighth in 55.85.
In the 100 hurdles, Scott ran a 16.19- with Conway winning in 15.51. Ray was third in 17.14 with Shaw fourth in 17.26 and Allison Morse sixth in 17.93.
Scott also finished sixth in the 200-meter dash with a time of 27.48. Daelyn Young was seventh in 27.53.
McKinney's 99'4" in the discus was second only to Z. Smith of Conway at 101'0". Imani Jones was fifth for Bryant with a fling of 92'11" with Serenity Bridges sixth at 92'9" and Kaycee White seventh at 92'5".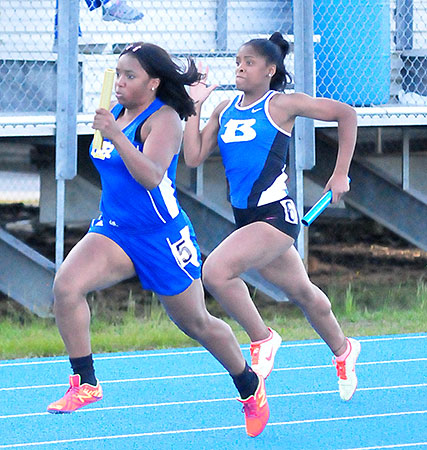 White was fourth in the shot with a heave of 32'11". Jones was sixth (32'4.75") and McKinney seventh (32'4").
Third-place finishes were turned in by Hall, Bree Hood and the 4×800 relay team. Hall was third in the 800 with a time of 2:27.79. Hood cleared 9'0" in the pole vault to get third. Kristin Garner was fourth at 8'0", tying teammate Maggie Laws. Ray was sixth by getting over at 7'6".
The relay team consisted of Lee, Bailey Brazil, Laws and Hall, turning in a 10:11.54.
The 4×100 team of Amanda Burt, Tiberia Foote, Robinson and Young took fourth with a time of 50.61.
In addition, Jadyn Lewis finished fourth in the 400 with a time of 1:01.56. Robinson was fifth in 1:02.58.
Shaw added a fourth-place finish in the high jump, clearing 4'10" and a fifth in the long jump at 16'2". Yonni Allen earned seventh-place points in the long jump at 15'10".
Foote was sixth in the triple jump by covering 33'0.25" while Young added a seventh in the 100-meter dash with a time of 13.28.
In the 1600, Brazil's 6:00.18 was good for seventh with Sydney Wilson eighth in 6:15.17.
The Lady Hornets will compete in the Class 7A State meet at Springdale Har-Ber on Thursday, May 4.