Photos by Kevin Nagle
Fenice Boone set new school records in the 100 and 400 meter races to lead the Bryant Lady Hornets freshman[more] team turn in a fourth-place finish in the annual Junior Hornet Relays at Bryant Stadium Thursday.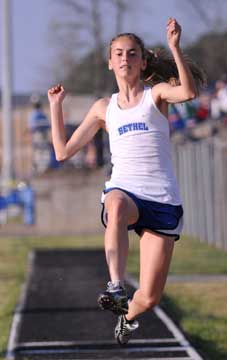 The Lady Hornets finished with 59 points. North Little Rock won team honors with 108 points, edging Cabot South, which accumulated 107.5 points. Lake Hamilton was third with 59. In all, 18 teams competed at the meet including the Bryant Blue Lady Hornets eighth grade team from Bethel Middle School, which finished eighth with 26 points, as well as the Bryant White eighth grade team of Bryant Middle School, which took 13th with 11 points.
Boone won the 100 with her record time of 12.50. Anna Lowery of Bryant Blue was fifth in a time of 14.07. In the 400, Boone's new school mark was 58.58, the only runner in the event to break one minute.
Jayla Anderson finished second in both hurdle events for the Lady Hornets freshmen. She clocked in at 16.50 in the 100 and 48.48 in the 300. In the latter, Bryant Blue's Kendall Selig was third at 56.51.
Anderson and Boone combined with Colleen Johnson and Lindsey Butler in the 4×400 relay. Their time of 4:28.60 was good for third. In the 4×100, Anderson, Johnson, Boone and Yessenia Gaspar teamed up for a fourth-place finish, clocking in at 53.69. Bryant White's Reagan Smith, Annmarie Keith, Skylar Davis and Faith Brown finished eighth in 55.69.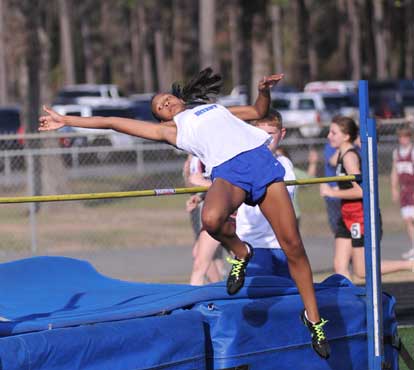 In the 4×800, Butler, Caitlyn Bell, Lauren Ackley and Talyn Billins earned a second-place finish with a time of 10:43.35 with Bryant Blue's quartet of Haley Hood, Melissa Barrientos, Emma Barnes and Hailey Levinson turning in a time of 11:26.91 to finish fifth.
Billins also added seventh-place points to the Junior Lady Hornets' total with here 2:42.02 in the 800-meter run.
In the field events, Haley Holiman finished seventh in the shot put with a toss of 30-7. Bryant Blue's Anna Turpin was sixth (32-5.5) and Bryant White's Miranda Mayfield was eighth at 30-1.
Turpin actually one the discus as an eighth grader. Her winning throw went 80-8. Teammate Kara Moser was seventh with a heave of 67-2.
In addition, Bryant White picked up points from Smith in the long jump. Her lead covering 14-6.5 was good for sixth.
The Lady Hornets return to competition at Hot Springs Lakeside on March 27.