Bryant freshmen respond to Conway White challenge for 42-20 win
EDITOR'S NOTE: Because the look back at each day in Bryant athletic history has been so favorably received during the time when there was no sports during the COVID-19 shutdown, BryantDaily.com will continueposting past stories of Bryant athletics either posted on BryantDaily.com (from 2009 to the present) or published in the Bryant Times (from 1998 to 2008).
By Rob Patrick
Photos by Kevin Nagle
The Bryant Hornets freshman team averages about five plays a game of more than 20 yards and, on Thursday, Oct. 6, they came up with six including a trio of touchdown passes by Brandan Warner. Challenged by three long touchdown throws from the Conway White Wampus Kittens' Harrison Pew to Mat Cummins, the Hornets kept coming up with answers on the way to a 42-20 victory.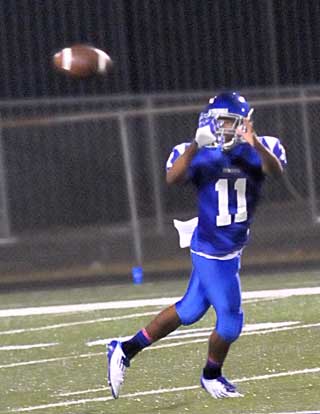 Bryant had allowed just 20 points altogether in its five previous games.
The win improves the Hornets to 6-0 overall and 3-0 in Central Arkansas Junior High Conference going into next Thursday's home game against Little Rock Catholic.
Warner completed 14 of 18 passes for 276 yards. He also sneaked for a couple of scores. Brushawn Hunter returned a punt 69 yards for the other score. Hunter, Brendan Young and Steven Murdock hauled in the TD tosses.
"I thought we responded well," said Hornets coach Kenny Horn. "We've got a lot of different guys getting touches and they came through with big plays. We've been trying to work Mar'Kevius Nelson in more on offense and tonight we did and he showed what he could do."
Nelson rushed for 21 yards on just four carries and caught three passes for another 45 stripes.
The Hornets built a 21-0 lead before Pew and Cummins combined on a 32-yard strike with 2:16 left in the half. The Kittens recovered an onside kick and drove to the Bryant 29 before Matt Shiew intercepted a pass and returned it to the Conway White 44.
With :26.3 left, the Hornets drove for a momentum-swinging touchdown. Warner passed to Nelson for 14 yards and, after spiking the ball to stop the clock, Warner started to roll out right only to pitch a shuttle pass to Hunter going the other way. The Hornets' speedster rambled 30 yards for the 6 with :11.4 left in the half.
Alex Denker, who was 6-of-6 on extra points, made it 28-7 at the break.
"I thought that was a big momentum swing," Horn mentioned. "Coach (Elliott) Jacobs made a good call on that. We're kind of know to roll out quite a bit and try to throw that flood route but Coach Jacobs came up with that a few weeks ago and we ran it very successfully about three weeks in a row now for big plays and that was a good time to call it. It looked good.
"But Conway stayed with it and they kept the pressure on," he noted. "They made a good throw and a good catch all three times (on the touchdown plays). It was really a perfect throw all three times I think. But we kept responding on offense. We came back and kept punching it in."
A play into the second half, Pew and Cummins teamed up again, this time for a 70-yard scoring pass. It was the same play, a fly pattern, in which Pew perfectly dropped his pass into Cummins' arms, despite pretty tight coverage from corner Ty Harris.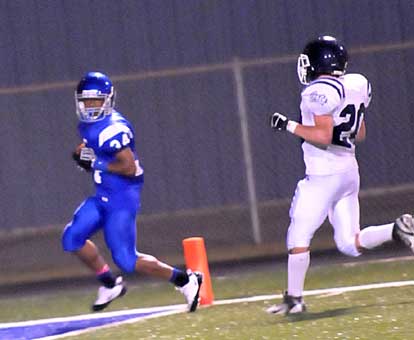 And when the Hornets' answering drive stalled at midfield, Conway White got the ball back with hopes of getting even closer. But Bryant stepped up on defense and, thanks in part to a penalty that turned a fourth-and-1 into a fourth-and-6, the Kittens were forced to punt it back.
The Hornets drove for what looked like it would be a clinching touchdown. The key play was a 47-yard pass from Warner to Jacob Gorham. The two connected from 22 yards out to make up some penalty yardage and set up Warner's first 1-yard sneak for a touchdown.
Denker kicked it to 35-14.
Conway White answered right back in short order. Running back Terrence Minor broke a 33-yard run that would've gone the distance but for the pursuit and tackle by Bryant's Drew Tipton. A play later, however, Pew and Cummins connected again on a fly pattern up the sideline, covering 40 yards on another well-placed throw.
Though Tipton blocked the extra point attempt, Bryant's lead was 35-20 with 5:37 left to play.
Eating up over four minutes of that, Bryant drove for a final score, capped by another 1-yard sneak by Warner. An 18-yard run by Hunter was the big play of the drive which started with a nice run by Nelson behind the blocking of the Hornets' strong offensive line surge from Caleb Chaffin, Caleb McElyea, Zack McConnell, Chad Adams and Andrew McBride.
The Hornets, who came into the game having outscored their opponents 183-20 made it look like it might be a familiar type of rout when, on the second play of the game, Warner threw to Murdock who sidestepped a tackler and raced down the left sideline for a 68-yard touchdown.
Conway White picked up a first down on its first possession but was forced to punt. Bryant got the ball back at its 32 and marched to another 6. Warner completed a pair of 11-yard passes, one to Hunter and another to Nelson. On a third-and-6 at the Conway 36, he dropped back to pass and, under pressure, rolled to his right when his primary receiver was covered. Young, working at tight end, had run a drag route on the play and was wide open on the right hash. Warner found him and Young sprinted in for the score that, with Denker's kick, made it 14-0.
The Bryant defense forced a three-and-out and, on the punt by Eugenio Lopez, Nelson fielded the ball and took off for the sideline. He handed off, however, to Hunter going the other way. Going against the flow, Hunter streaked 69 yards for another TD. Denker made it 21-0.
The touchdown trading began moments later. Behind the running of power back Kevin Chamorro, the Kittens reached the 31 where Chamorro was decked for a loss by Austin Trusty. A second-down pass deep down the sideline was broken up by Tipton to set up third-and-11 from the 32. That's when Pew and Cummins combined the first time.

BRYANT 42, CONWAY WHITE 20

Score by quarter

Conway White 0 7 7 6 — 20
BRYANT 14 14 0 14 — 42
Scoring summary
First quarter
BRYANT — Murdock 68 pass from Warner (Denker kick), 7:08
BRYANT — Young 36 pass from Warner (Denker kick), 0:34.1
Second quarter

BRYANT — Hunter 69 punt return (Denker kick), 6:30
CONWAY WHITE — Cummins 32 pass from Pew (Cummins kick), 2:16
BRYANT — Hunter 30 pass from Warner (Denker kick), 0:11.4
Third quarter

CONWAY WHITE — Cummins 70 pass from Pew (Cummins kick), 6:57
Fourth quarter

BRYANT — Warner 1 run (Denker kick), 6:37
CONWAY WHITE — Cummins 40 pass from Pew (kick blocked), 5:37
BRYANT — Warner 1 run (Denker kick), 1:24
TEAM STATS

Conway White BRYANT
First downs 9 13
Rushes-yds 25-103 16-67
Passing yds 167 276
Passing 8-12-1 14-18-0
Punts-avg. 3-37.0 1-22.0
Fumbles-lost 2-0 1-1
Penalties-yds 6-30 4-30
INDIVIDUAL STATS

Rushing: BRYANT, Hunter 7-40, Nelson 4-21, Young 1-4, Warner 4-2; CONWAY WHITE, Chamorro 14-60, Minor 7-48, Pew 4-(-5).
Passing (C-A-I-Y): BRYANT, Warner 14-18-0-276; CONWAY WHITE, Pew 8-12-1-167.
Receiving: BRYANT, Gorham 3-76, Nelson 3-45, Hunter 3-42, Murdock 2-82, Young 2-36, Reeves 1-(-5); CONWAY WHITE, Cummins 3-142, Adams 2-11, Condit 2-6, Mitchell 1-8.