For more photos of this event by Kevin Nagle, go here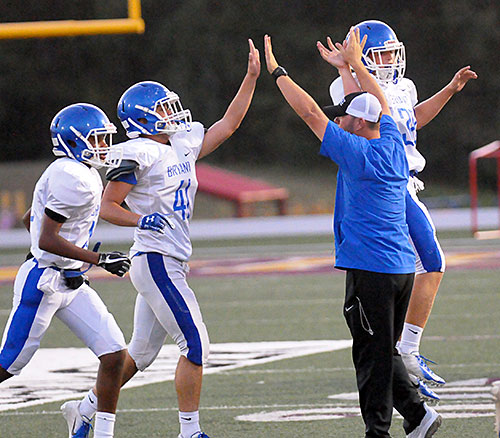 PEARCY — Through three games now, the Bryant Hornets freshman team defense has not been scored upon. They recorded their third shutout on Thursday night with a 36-0 rout of the Lake Hamilton Wolves freshman team, which had amassed 100 points in their first two games of the 2019 season.
The Wolves finished with 90 yards of offense. Big, fast tailback Kendrick Martin was held to 34 yards rushing on 18 carries. The Hornets accumulated 14 tackles for loss in the contest.
Offensively, both quarterback Cory Nichols and running back Martavian Earle rushed for over 100 yards. Earle scored twice and Nichols, going 6 of 9 passing, threw for three TDs.
"We cleaned up a little bit, I thought," said Hornets head coach Kenny Horn. "We still do some knot-headed stuff sometimes but a lot less tonight and it showed.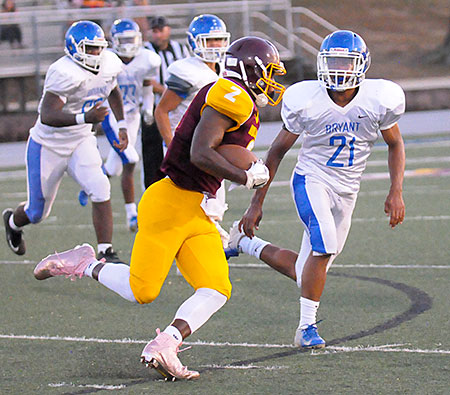 "(Lake Hamilton) was a good team coming in but, defensively, man, we were lights out again," he related. "I think we busted one assignment tonight. The two big plays they had, one of them was a bust and the other one, we just didn't get off a block.
"But they competed, played hard, flew to the ball, hustled," he said. "Offensively and defensively, we completed. You know, we had linemen 30 or 40 yards down the field on a touchdown run. I'm super proud of them."
That was on Earle's 73-yard gallop, one of his five carries, accounting for more than half of his 132 yards rushing.
The game didn't start particularly well for the Hornets. Lake Hamilton picked up a pair of first downs, driving into Bryant territory. At the 41, however, Malachi Graham came up from the secondary to stop Martin for no gain. On the next play, Aiden Baker cut him down for a four-yard loss. Two tackles by Will Cornelius followed and the Wolves turned it over on downs at the Hornets' 40.
And on Bryant's first snap on offense, Nichols was rushed and fumbled. Martin recovered for the Wolves at the Bryant 25.
A 14-yard pass from Easton Hurley to Dalton Pitts got the ball to the 14 but, from there, the Wolves went backwards. Colm Taylor stopped Martin for a loss of 5 then Graham and John Ede tackled wingback Jamarrion Byrd for a 9-yard loss after a botched handoff.
On thrd-and-24 at the 28, Tyler Mosley tackled Martin for a loss of 8 more after another fumbled exchange. This time, Bryant's Joshua Moore recovered at the 36.
Earle's first run of the night started the ensuing drive. He wove his way for 39 yards to set up Nichols' 19-yard touchdown toss to Chris Gannaway. Nichols ran in a conversion out of the old "swingin' gate" formation to make it 8-0.
In turn, Lake Hamilton picked up a pair of first downs including a 32-yard burst by Crutchmer. At the Bryant 31, however, they stalled. On a fourth-and-2 at the Bryant 23, the Wolves ran the same dive play that Crutchmer had broken big. This time, however, he was stopped short of the first down and Bryant took over.
Sparked by a 46-yard scramble by Nichols, the Hornets scored again. Nichols followed up with three consecutive pass completions including a 12-yarder to Braylon Brown for the TD with 1:50 left in the half. Stephen Fuller kicked the extra point to make it 15-0.
But the Hornets weren't done. Josh Rice made a tackle on Lake Hamilton's first play from its 22 and the Wolves couldn't recover. On a fourth-down play from their own 20, Hurley appeared to hit Crutchmer for a first down, but the pass was dropped.
Bryant thus got the ball at the Wolves' 20 with 55 seconds left. It took them five seconds to score as Nichols and Gannaway hooked up for the touchdown on first down.
Fuller's extra point kick made it 22-0 at the break.
To start the second half, Lake Hamilton recovered an onside kick. On a third-down at the Bryant 42, Baker tackled Martin for a loss but, on consecutive plays, Hurley was able to draw the Hornets offsides with a hard count.
The mark-offs got the ball to the 35. Martin picked up 3 on first down but Hurley was dropped for losses on the next two plays, first on a sack by Cornelius and Ede. A fourth-down pass was well overthrown and, again, the Hornets took over on downs.
After a penalty pushed them back, a bad snap nearly cost Bryant big time, but Nichols coolly scooped up the loose ball and managed to run for 14 yards. He and Brown connected for 9 yards and a first down.
But the Hornets stalled out. After reaching the 34, Martin sacked Nichols on a fourth-down play and, this time, the Wolves took over on downs.
Crutchmer broke a 25-yard run but, again, the Wolves were unable to follow up. Martin managed a 7-yard run but, two plays later, it was fourth-and-2 at the Bryant 17.
Hurley tossed to Crutchmer this time only to have the Hornets' defense overwhelm the blocking and drag him down for a six-yard loss.
A play later, Earle got free down the left sideline for his 73-yard touchdown run. With Fuller's extra point, it was 29-0 with 6:53 still to play.
Graham recovered a Lake Hamilton fumble with 4:52 left and, on five running plays, the Hornets drove 56 yards for a final touchdown. Despite a high snap that holder Triston Kellum somehow got on the tee, Fuller finished with the PAT with 3:09 to go and a running clock in accordance with the mercy rule.
For good measure, Baker then Joshua Dinkel then Cornelius and Carter Moore each made tackles for losses. The game ended on the first punt of the game.
The Hornets will try to add to their shutout streak of 12 consecutive quarters when they host North Little Rock on Thursday, Sept. 26.