Photos courtesy of Nikki Funk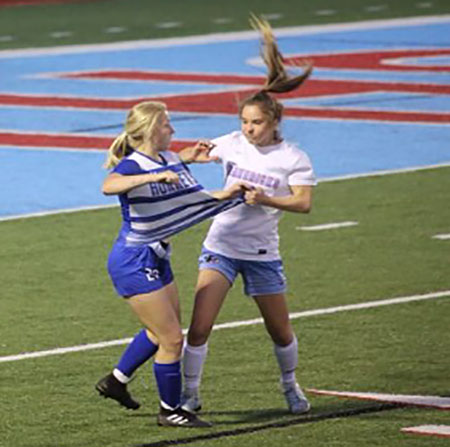 FORT SMITH — The Bryant Lady Hornets pinned the first 7A-Central Conference loss on the league-leading Fort Smith Southside Lady Mavericks Tuesday night. The 3-1 win was sparked by Alyssa Fason's two goals in the first five minutes of the match. Ashton Inman added the third goal late.
It was Bryant's second win over the Lady Mavs this season. Their previous victory came in the Fort Smith Invitational Tournament before conference season began. Southside, now 12-5 and 9-1, won at Bryant, 2-1, on March 29.
The Lady Hornets are now 12-5 overall and 7-4 in league play going into Thursday's home match with Cabot, a team they owe after a 6-1 loss at Cabot on April 3.
"The intensity was high, and the girls were focused," said Lady Hornets coach Nicole Inman. "Our words for the game were discipline and excellence."
The victory came on the heels of a deeply frustrating 1-0 loss at Little Rock Central, a game that started on Friday but was suspended until Monday due to a power failure.
The intensity of Tuesday's match boiled up due in part because of inconsistent officiating.
"We struggled to stay composed sometimes as the one-vs.-one battled got heated," Inman allowed. "It got very aggressive."
The Southside coach wound up with a red card and, after the game, fans heckled the Lady Hornets.
Of Fason's first goal, Inman said, "It came off of defensive mistakes. She transitioned and capitalized. They tried to play it back to their keeper and gave a bad pass and Alyssa challenged for it and got a quick shot off.
"The second goal came from Melinda (Hernandez) dribbling and taking on a player and connecting with Alyssa, who created space. She played a ball far post past the keeper.
"Ashton's goal came in the last four minutes of the second half," the coach said. "It was a quick transition up the field and then Maddie (Humbard) played a good forward through-ball to Melinda. She took a few touches, bringing the ball up the field and crossed it right outside the box to Ashton. She had a defender trailing her so she one-touched it in to the opposite corner with her left below the keeper, who was coming out."
Southside's goal came with 14:10 left by Rachel Smith.
Bryant keeper Addison Funk had three saves.
"Addison came up with the balls on all of their corners, so we shut them down there," Coach Inman noted.
"Maddie and Ashton both hit the upper post and the ball came straight down very close," she mentioned. "MC (Mary Catherine Selig) had two great opportunities in front of the net she didn't finish on. Hailee Denton played for the first time and earned a lot of playing time wide. She had a couple of chances to finish on as well."
The loss broke Southside's 10-game winning streak.