Bryant girls second only to Conway at Hornet Relays
EDITOR'S NOTE: Because the look back at each day in Bryant athletic history has been so favorably received during the time when there was no sports during the COVID-19 shutdown, BryantDaily.com will continue posting past stories of Bryant athletics either posted on BryantDaily.com (from 2009 to the present) or published in the Bryant Times (from 1998 to 2008).
For more photos of this event by Rick Nation, go here
Jadyn Lewis and Kayla Scott earned individual wins and Lewis contributed to a winning effort in the 4×400-meter relay as the Bryant Lady Hornets accumulated 118.5 points at the annual Hornet Relays at Bryant Stadium Tuesday night.
Conway won team honors with 159 points. Russellville was third (75.5) with Springdale Har-Ber fourth (56) and Sylvan Hills (43.5) rounding out the top five among the field of 17 teams.
Lewis won the 400-meter with a time of 1:00.16. Conway's Zailey Chaffin was second in 1:01.41 and Bryant's Maggie Laws took seventh in 1:04.33.
Scott won the 300 hurdles with a time of 48.22, barely nosing out Taylor Conway of Conway at 43.23.
In the 4×400, Zhania Hall, Megan Lee and Laws combined with Lewis on a 4:23.03. Sylvan Hills' 4:26.24 was second.
Lewis, the Bryant senior who has signed with Arkansas State, scored in three other events. She was second in the 200 with a time of 26.30, just short of the 26.25 turned in by Raeghan Smithpeters of Har-Ber.
In the 100, Lewis was third with a time of 12.83 and she was third in the long jump with a leap of 15'10.75".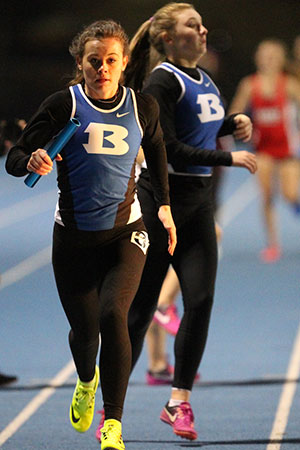 Scott also contributed a fourth-place finish in the 100 hurdles, clocking in at 16.69 with Cassie Ray eighth in 17.33.
Lee and Kaycee White pitched in with second-place finishes. Lee's triple jump of 32'4.5" was second only to Conway's 33'8.75". Bryant's Yonni Allen was third (32'4") and Bree Hood was fifth (31'6").
White took second in the shot with a throw of 33'3". Madison Mallett of Russellville had the winning toss of 36'8.5". Taylor McKinney of Bryant was third with a heave of 31'11.5".
McKinney was third (91'1") and White fifth (88.4") in the discus.
Meanwhile, Lee joined Hall, Laws and Hood in the 4×800, which finished in 10:46.27 to earn third-place points.
Bailey Brazil scored in two events. She was third in the 1600 with a time of 5:40.48 and eighth in the 800 in 2:41.77.
Hood and Laws finished fifth and sixth, respectively, in the pole vault with both clearing 8'0". In the high jump, Jaclynn Greenwood was sixth, clearing 4'4".
The team breaks from competition for spring break next week. They compete at Hot Springs Lakeside's Ram Relays on Thursday, March 30.