Photos courtesy of Jason Greiner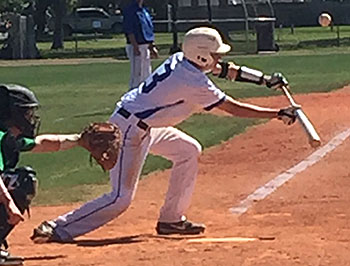 TAMPA, Fla. — The Bryant Hornets' annual trip to Florida for spring break baseball ended on a positive note as the junior varsity team hammered the varsity team of South Fayette Township High School Lions of McDonald, Pa., 14-6 on Friday.
Matthew Sandidge and Brandon Hoover had three hits each with Hoover and Konner Clontz each driving in four.
The Hornets used four young pitchers, Christain Motes, Gage Stark, Zion Collins and Braydan Lester in the contest. Lester finished with two perfect innings, relieving with no one out and two aboard in the sixth and getting out of the jam.
The Hornets took a 1-0 lead in the first when Jake Wright walked, took second on a sacrifice bunt put down by Scott Schmidt then scoring on a single by Coby Greiner.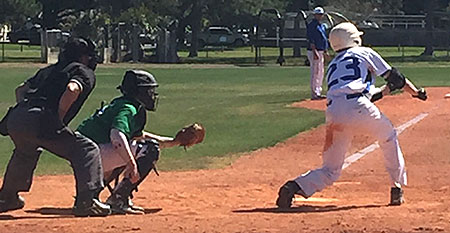 South Fayette took the lead in the bottom of the inning. The Lions tied it with a single by Ryan Kokoski, a sacrifice by Mitch Dunay and a two-out double from Richie Dell. Singles by Christian Gabriel and Nolan Lutz brought the second run around before Motes got the final out on a grounder to Logan Catton at third.
The Hornets took the lead in the top of the third. Schmidt swatted a single to right and, after Greiner sacrificed, Sandidge's single to center tied the game. Sandidge stole second and scored on Hoover's base hit to right, making it 3-2.
Logan Catton kept the carousel turning with an infield hit then Myers Buck and Clontz waited out walks to force in Hoover.
In the bottom of the inning, Dell led off with a single and Stark came on to relieve for the Hornets. He fanned Gabriel but an error kept the inning going. A walk loaded the bases but, with the infield in, Matt Primm hit a grounder to first. Hoover threw home to catcher Ryan Lessenberry for the force. The next batter Zach Weis grounded to Clontz at short. He flipped to Schmidt at second to end the threat.
The Hornets, in turn, took control of the game in the top of the fourth. Schmidt's pop to right was dropped then Greiner walked and Sandidge was hit by a pitch to load the bases for Hoover who lined a single to left to chase home two.
A balk allowed Sandidge to score. Catton walked and, after a pitching change, Clontz raked a two-out triple to make it 9-2.
A single and a walk started South Fayette's fourth. A passed ball put runners at second and third for Tyler Bedillion who beat out an infield hit to drive in a run. And when Bedillion stole second and errant throw allowed a run to score. Dell picked up an RBI with a groundout to short, making it 9-5.
Gabriel beat out an infield hit and Collins came on to relieve. He proceeded to pick off Gabriel to end the inning.
The Hornets revved up the offense again in the top of the fifth. Wright walked and Schmidt sacrificed. An error allowed Schmidt to reach. Greiner sacrificed them to second and third then Sandidge single in a run. And when Sandidge took off on a steal of second, Schmidt came home. On the throw to the plate, Sandidge tried to get to third but was thrown out.
Still, it was 11-5. Hoover reached on an error, Catton was hit by a pitch and Myers Buck pulled a single to left to bring Hoover around.
The Lions peeled a run off the lead in the bottom of the sixth on an error, a walk, a hit batsman and a sacrifice fly before Lester brought the uprising to an end with a strikeout and a grounder to Catton at third.
Greiner led off the seventh with a single, taking second on an error. Sandidge sacrificed him to third and Hoover drove him in with a single to left. A walk to Catton was followed by a two-out RBI single by Clontz to set the final score.
South Fayette was retired in order in the home half to end the game.