Bryant keeps conference slate clean with rout in regular-season finale
EDITOR'S NOTE: In this time of COVID-19, with no sports action, BryantDaily.com will be posting past stories of Bryant athletics either posted on BryantDaily.com (from 2009 to the present) or published in the Bryant Times (from 1998 to 2008).
For more photos of this event by Kevin Nagle, go here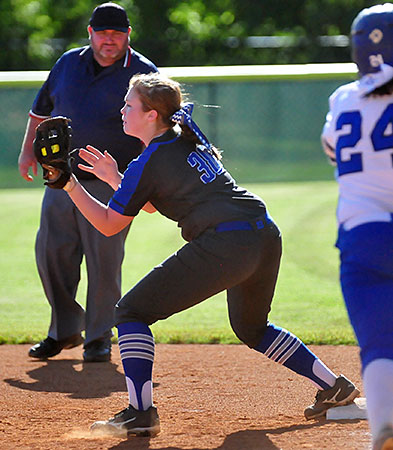 CONWAY — With their conference championship in hand, as well as the No. 1 seed (and the first-round bye that goes with it) for the Class 7A State Tournament in Fayetteville next week, the Bryant Lady Hornets had some fun Friday night in their regular-season finale and last tune-up for their bid to win a State title by walloping the Conway Lady Cats on their Senior Night.
Bryant hammered out a whopping 18 hits including 10 of them for extra bases in a 13-2 romp. Sarah Evans and Madison Lyles each clubbed home runs among their three hits apiece. Evans added two doubles and drove in three runs. Raven Loveless had three hits and three RBIs including a two-bagger.
Maddie Stephens' two hits included a triple with Gianni Hulett, Macey Jaramillo, Regan Ryan and Meagan Chism adding doubles along the way. Jaramillo and Ryan had two hits each.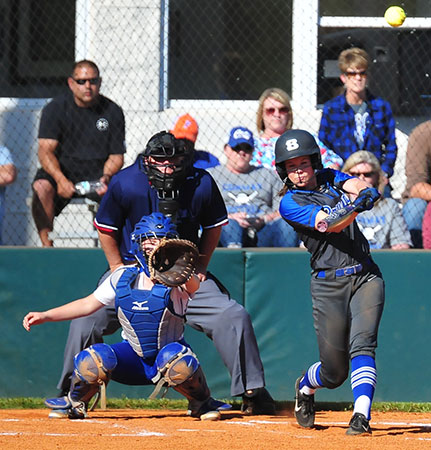 Hulett and Loveless combined to limit Conway to four singles. Both of the Lady Cats' runs were unearned. They scored in the bottom of the fourth after the Lady Hornets had already piled up a 10-0 lead. Bryant's three-run sixth made it a run-rule differential.
It was the 15th win in a row for the Lady Hornets who take a 27-3 record into State. Their last loss was a 4-2 setback against Sumiton, Ala., Christian Academy during their trip to Gulf Shores during spring break. In fact, the loss before that was a 3-2 decision to Fairhope, Ala., to start that trip. Their lone in-state setback was a 2-1 loss to Benton Harmony Grove back on March 10.
Bryant swept through the 7A-Central Conference undefeated at 14-0. The Lady Hornets will open play at State on Friday, May 12, at noon against the winner of a Thursday contest between Rogers Heritage and Fort Smith Northside.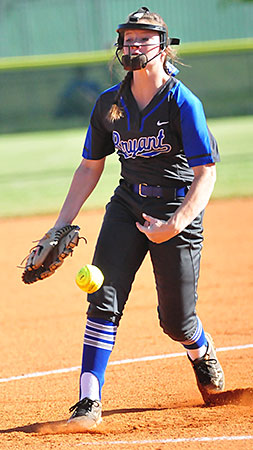 Against Conway, Bryant scored in five of the six innings. In the first, Ryan cracked her double to center. Hulett sacrificed her to third then Chism came through with a sacrifice fly to make it 1-0.
Back-to-back doubles by Evans and Jaramillo made it 2-0.
Hulett started in the circle and, after surrendering a lead-off hit to Lindsey Williams, she eased through the next three batters to send it to the second.
Bryant's third run was Lyles' one-out blast to left.
Three infield grounders made quick work of Conway in the home second. In the third, Chism cracked a one-out double to left and, a pitch later, Evans unloaded with a two-run bomb to center.
Loveless took her turn in the circle as the bottom of the inning commenced. She needed five pitches to set down the Lady Cats.
Stephens' triple started the top of the fourth and ignited a five-run outburst. Ryan singled him home and, after Hulett doubled, Chism's second sacrifice fly made it 7-0.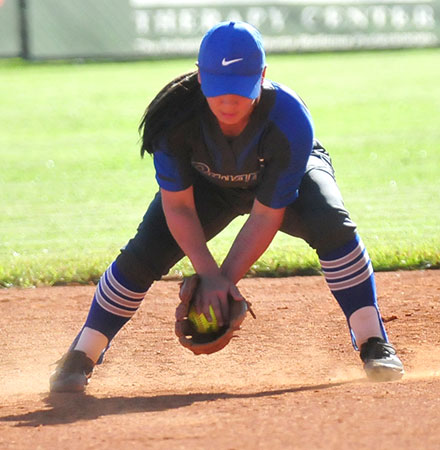 Evans' second double chased in Hulett and, with two down, Loveless singled in a run. With Gabby Bonvillain on as a pinch-hitter, a wild pitch allowed Loveless to take third. She scored, momets later, on Bonvillain's line-drive single to right, making it a 10-0 lead.
Conway broke through with a two-out, two-run single by Shelby Reed in the bottom of the fourth. Tremere Harris had led off with an infield hit then Allie St. John reached on an error. On a one-out grounder to Lyles at short off the bat of Mae Roach, all hands were safe when the shortstop's throw to third was too late for the force.
Loveless made a bid to get out of the inning unscathed when she struck out Emily Cecil. Reed popped up into shallow right and no one could get to it as the two runs scored.
A strikeout ended the inning.
The fifth inning was quiet for both teams but, in the top of the sixth, walks to Evans and Jaramillo set the table. Loveless followed with her double, chasing both runs home. She would eventually score the final run on a sacrifice fly by Brooklyn Trammell.
Hulett retired the Lady Cats in the bottom of the inning around a one-out single by Holly Stewart as the game drew to a close.