By Rob Patrick
LITTLE ROCK — Seniors lead.
Sometimes they're holler-guys. Other times, they're quieter. But most of the time, their actions — the way they comport themselves under pressure, the way they respond to adversity, the way they handle success — are the true moments of leadership.
And, of course, anyone can be a leader but, in high school, the task naturally falls on the seniors.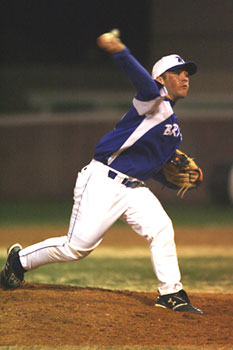 On Thursday, March 5, the Bryant Hornets got valuable leadership from seniors Tyler Sawyer and Kaleb Jobe in a white-knuckle 7A-Central Conference win over the Little Rock Catholic Rockets at Lamar Porter Field. The 3-2 victory improved the Hornets to 3-1 overall and 2-0 in the league. The Rockets fell to 4-3 and 1-1.
On the mound, Sawyer picked up the win, going six innings, fanning 10 and walking two. He limited the damage in Catholic's two-run fifth and stranded a runner at second. In the sixth, he was unfazed by a walk and a catcher's interference that cost him a strikeout. He proceeded to strike out the next two batters to end that threat, protecting his 3-2 lead.
In between, he had sparked Bryant's three-run rally with a shot to left-center for a double.
Jobe beat out an infield hit during that uprising then, after catching the first six innings, took the mound in the seventh and earned the save by getting the final out after the Rockets had loaded the bases.
"Finding a way to win," noted Hornets head coach Kirk Bock. "We had our backs against the wall, down 2-0. We came back up and battled. We could've quit. Sawyer and Jobe just kind of took the bull by the horns and got it done on the bump.
"I'm just proud because we battled," he reiterated. "We're not very good right now. But, dadgum it, before it's all said and done, we're going to be good. Once we just figure it out a little bit. We're going to make some adjustments. We're going to make some adjustments at 6 o'clock in the morning and we'll practice again tomorrow afternoon. We're going to figure it out." [more]
Sawyer and lefty Daniel Brundick dueled over the first four innings. The Bryant right-hander pitched around a one-out double in the second by Stuart Levy and a two-out single in the fourth by Taylor Williamson.
Brundick surrendered a single to Garrett Bock in the first but his teammates turned a doubleplay to erase the runner. In the second, he worked around an infield hit by Brady Butler and, in the third, two-out singles by Hunter Mayall and Bock.
In the fifth, however, Brennan Bullock beat out an infield hit to lead off the inning and Lucas Castleberry roped a single to left. So Brundick gave way to Stuart Montez and, after Caleb Garrett sacrificed the runners to second and third, he got out of the jam with a strikeout and a bouncer to second.
In the bottom of the inning, Sawyer retired the first two with third sacker Hunter Alford making a nice play for the second out. But Hunter Rankin followed with a bad-hop single past Bryant second baseman Jordan Taylor and Sawyer issued the first walk of the game to Jordan Harvey. With lead-off man Drew McMahan at the plate, Sawyer got the first two pitches in for strikes. But, a pitch away from coming up empty as the Hornets had, McMahan got enough of a breaking pitch to sneak it through the right side of the infield for an RBI single. And when the ball got past the right fielder, Harvey scored as well to make it 2-0.
With McMahan at second, Sawyer bore down and got the next batter, Dylan Owen to bounce back to the mound to end the inning.
When the Hornets came in, Bock pulled them together. "We just talked about, 'What are we going to do? Are we going to quit, put our head down, or are you going to go to work?' You know, it's just blue collar. Those guys get up out of bed every morning and they go to work until the job is done. And their job wasn't done."
And when the top of the sixth starter, Sawyer belted a 2-0 delivery from Montez into deep left field for a lead-off double to spark the Hornets' answer.
"That was big," Bock asserted, "and it was big for him. You know, it seems like when Sawyer and Jobe are going good then everybody else is going good."
The blast ended an 0-for-7 stretch for Sawyer, since he belted a home run against Searcy in the team's official season-opener at the Benton Invitational Tournament.
Jobe followed with a slow roller to third that he beat out for a hit, sliding under a high throw at first with Jonathan Wade, the courtesy runner for Sawyer, taking third.
Montez worked a 1-2 count on the next batter, Butler, then appeared to hit him on the wrist. Butler went to first but was called back by the homeplate umpire who ruled that the ball had hit the knob of the bat and was a foul ball. As Bryant head coach Kirk Bock protested, first-base coach Mark Jelks brought Butler back to the plate, showing the spot where the ball had hit his wrist. On appeal to the field umpire, the call was reversed and Butler was awarded first base.
That brought Catholic coach Dustin Strube out of the dugout in protest.
But the play wasn't reversed a second time and the Hornets had the bases loaded with no one out. Montez stepped up and got Jordan Taylor on strikes and induced a slow roller up the first-base line off the bat of Brennan Bullock. Montez charged in and tried to field the ball and toss it home but couldn't find the handle and the Hornets were on the board with the sack still jammed.
A wild pitch followed and Jacob Clark, running for Jobe, raced home beating the return throw from Chwalinski to Montez, covering the plate, on a bang-bang play that Strube again protested to no avail.
With the game tied and Castleberry still at the plate, a high and wide fastball got past Chwalinski and Butler scored to give the Hornets the lead.
Montez got Castleberry to ground to third then fanned Garrett to keep Bullock at third but the damage was done.
Chwalinski, however, worked a walk out of Sawyer to start the bottom of the inning. Sawyer fanned Williamson then appeared to have Levy retired on strikes but catcher's interference was called, putting runners at first and second with one out. They got no further as the next two batters went down swinging.
Montez retired the Hornets in order in the top of the seventh, however, to keep his team close and Jobe relieved in the bottom of the inning since Sawyer had reached 93 pitches. Junior B.J. Ellis took over behind the plate in his first varsity appearance and handled himself well under the pressure.
The first two in the home seventh went down quickly on a fly to Garrett in right and a bouncer to Taylor at second. A strike away from the end, however, McMahan took a walk. Owen followed with a single to center to put the potential tying and winning runs on board.
Chwalinski followed with a two-hopper to third. Alford knocked it down then fired low to first. Butler, usually a catcher, dug it out, though he appeared to juggle it. The field umpire punched the air for the apparent third out but Strube kept his runners on base as he asked for an appeal to the homeplate ump. After a conference, the call was reversed with the indication that Butler had come off the bag to make the catch.
So, with the bases loaded, Jobe went back to work against Williamson, the Rockets' clean-up hitter. On four pitches, Jobe struck him out to end the game.
The Hornets were scheduled to host Van Buren on Tuesday, March 10, but the game was moved to Saturday. Bryant will return to conference play on Thursday, March 12, at Russellville. The next day, they'll visit White Hall for a non-league contest before Van Buren comes in for a 1 p.m. game on Saturday.
HORNETS 3, ROCKETS 2
Bryant (3-1, 2-0) LR Catholic (4-3, 1-1)
ab r h bi ab r h bi
Mayall, dh 4 0 1 0 McMahan, ss 3 0 1 1
Bock, cf 4 0 2 0 Owen, 1b 4 0 1 0
Sawyer, p-ss 4 0 1 0 Chwalinski, c 3 0 0 0
Wade, cr 0 1 0 0 Rougeau, cr 0 0 0 0
Jobe, c-p 3 0 1 0 Williamson, dh 4 0 1 0
Clark, cr 0 1 0 0 Levy, 3b 3 0 1 0
Butler, 1b 2 1 1 0 Gardner, cr 0 0 0 0
Taylor, 2b 3 0 0 0 Tanner, 2b 3 0 0 0
Bullock, lf 3 0 2 1 Shelton, rf 3 0 0 0
Castleberry, ss 3 0 1 0 Rankin, cf 3 1 1 0
Ellis, c 0 0 0 0 Harvey, lf 2 1 0 0
Garrett, rf 2 0 0 0 Brundick, p 0 0 0 0
Alford, 3b 0 0 0 0 Montez, p 0 0 0 0
Totals 28 3 9 1 28 2 5 1
BRYANT 000 003 0 — 3
LR Catholic 000 020 0 — 2
E—Garrett, Jobe. Alford. DP—LR Catholic 1. LOB—Bryant 6, LR Catholic 8. 2B—Levy, Sawyer. S—Garrett.
ip r er h bb so
Bryant
Sawyer (W) 6 2 1 4 2 10
Jobe (S) 1 0 0 1 1 1
LR Catholic
Brundick 4 0 0 5 0 3
Montez (L) 3 3 2 3 0 3
Brundick faced two batters in the fifth.
HBP—Butler (by Montez). WP—Montez. PB-Chwalinski.