RUSSELLVILLE — Bryant High School soccer coach Jason Hay knew things would get tougher when his team started play in the 7A-Central Conference. And, sure enough, after a 5-0 start, the Hornets had suffered two losses — both close — as league play began.
Still, they hadn't had one of those games where nothing went right.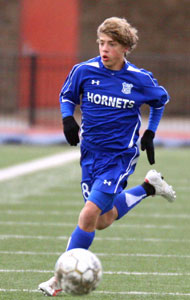 Until Thursday, March 5.
After the long trip to Russellville, the Hornets struggled with the Cyclones and absorbed a 7-1 loss.
The Lady Hornets, meanwhile, suffered through their own adversity in a 2-0 setback that ended with them playing with just 10 players due to a pair of injuries and a red card.
"They took it to us early," Hay said of Russellville's boys.
The Cyclones scored three quick goals in the first 25 minutes of the game to take control. They led 4-0 at halftime.
"We moved the ball some but their forwards are very fast," Hay said. "They have a very good touch. They were getting through our back line with their speed. Three of their first half goals came off headers from corner kicks.
"I thought our kids played hard until the end, even down 6," he added.
Aaron Prewitt put the Hornets on the board with a header in the second half.
The teams return to action Tuesday, March 10, at Conway.