By Rob Patrick
File photo by Kevin Nagle
Jason Hastings and Hayden Daniel combined on a three-inning perfect game and the Bryant[more] Hornets scored 19 runs in two at-bats as they buried the hapless Little Rock J.A. Fair War Eagles Friday night.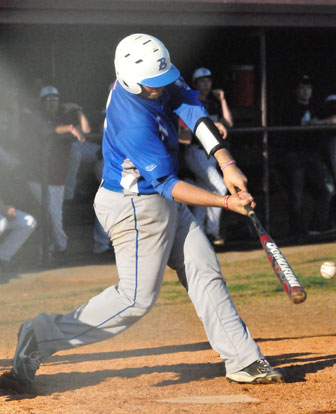 It was the 14th straight win for the Hornets, now 21-5 on the season and 9-1 in South Conference play. Bryant travels to Sheridan on Thursday, April 25, for their next game.
Trevor Ezell tripled twice in the first inning as the Hornets scored 13 runs, sending 18 batters to the plate. A second lineup added 6 runs in the second, highlighted by Evan Lee's two-run double.
Hastings, Bryant's sophomore lefty, needed just 18 pitches to retire the War Eagles' first six batters. He fanned three. Daniel finished the game off by striking out the side in the top of the third.
Bryant pitchers have allowed just three runs in the team's last six games. In their 10 conference contests, the Hornets have allowed only eight runs.
Tyler Green started the bottom of the first with a bloop single to left, racing home on Ezell's triple to left-center. Austin Caldwell drew a walk and stole second before Hayden Lessenberry beat out an infield hit for an RBI.
A walk to Daniel loaded the bases and, with Hastings at the plate, a passed ball made it 3-0. Hastings followed with a sacrifice fly to get Nick Kehrees, in as a courtesy runner, across the plate.
Ty Harris was hit by a pitch and stole second ahead of a walk to Korey Thompson that filled the bags again. With two down, Green came back up and hit a liner to short that was misplayed. Daniel scored and when an errant throw came home, so did Harris.
That set the stage for Ezell's second triple, a shot to right that knocked in two more runs. Caldwell doubled to get him home then advanced to third on a wild pitch as Lessenberry walked. Daniel cleared the bases with the third triple of the inning to make it 11-0.
A single by Hastings drove in Daniel then Harris yanked a double inside the right-field line to finish off the inning.
In the second, Chase Tucker was hit by a pitch and walks were issued to Connor Tatum and Caldwell to load the bases for Trey Breeding who slapped a single to right to drive in the first run of the inning. That led to Lee's drive to left-center for a two-run double.
Dalton Holt walked before Drew Tipton and Harrison Dale were hit by pitches to load the bases with one out. Tucker then lifted a pop behind first base that the umpire called an infield fly — an automatic out. The ball dropped, however, and Holt was able to score the final run of the game.