By Bridget Bauer
Photos by Rick Nation
Trailing 8-3 going into the bottom of the seventh Friday, the Bryant Lady Hornets staged a comeback[more] but fell short as they lost, 8-6, to the Lake Hamilton Lady Wolves.
Lake Hamilton finished with three errors, all in the bottom of the final frame, and Bryant (10-9, 6-4 6A-South) took advantage of those miscues in addition to singles by Katy Stillman and Kayla Jolley. Stillman led off the frame with her base hit to left center. Breanna Sanders and Sydney Gogus reached on consecutive errors with Stillman going home when Gogus was safe at first. Jolley's RBI single sent Sanders home with Gogus' courtesy runner Mercedes Dillard scoring after Abby Staton also reached first on an error.
"I thought we finished strong, and that gives us something to build on," Bryant Coach Debbie Clark said. "I don't know what was different. I just said we can do this and score some runs for me."
Through three innings, the Lady Hornets just trailed 3-2 with Lake Hamilton tallying three runs in the top of the first to take a quick 3-0 lead. One of those runs came on an illegal pitch as did Bryant's lone run in the first. Stillman walked and scored on the illegal pitch. She was aided in her trip around the bases on Gogus' single. In the third frame, Gogus singled and courtesy runner Dillard went home on Carly Yazza's base hit to centerfield.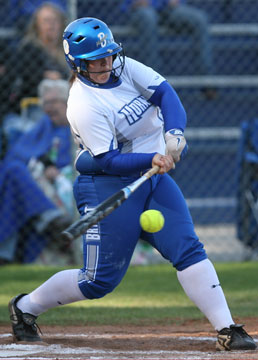 A three-run fourth inning on three hits and one error gave Lake Hamilton a 6-2 margin. Another run was added on the fifth on two hits and one error.
Jolley pitched five stanzas and yielded six hits, struck out three batters and walked three. Jordan Williams threw the sixth and seventh stanzas and yielded one run on two hits, struck out four and walked one.
"We made too many mental mistakes and errors and let the margin get too great," Clark said. "We did score in more innings."
Jolley added a run for the Lady Hornets in the fifth inning on her solo home run.
The Lady Hornets are schedule to play a pair of games today in Vilonia at 12:30 p.m., against the Lady Eagles and against the Farmington Lady Cardinals at 2:30.