Photos by Rick Nation
Pierce Finney scored 24 ½ points to lead the Bryant Hornets freshman track team to a second-place[more] finish at the Central Arkansas Junior High Conference championship meet Friday night at Bryant Stadium.
Lake Hamilton won the team title with 134.5 points to Bryant's 94. Cabot South was third with 88 followed by Conway White (85.5), Conway Blue (83), Cabot North (56), North Little Rock (44) and Benton (39).
The Hornets won one event, the 4×100 relay with Finney joining Drew Alpe, Khaliq Slater and Taylor Hecker, clocking in at 46.89.
Finney was second in two individual events, the 200 and 400, and third in the 100. In the 200, he ran a 23.85 and, in the 400, he turned in a 52.21. In both cases, he was a close second only to Cabot North eighth grader Evan Hooper who ran 23.74 in the 200 and 52.18 in the 400.
Only freshmen competed for Bryant at the meet.
Hooper also won the 100 in 11.59 with Finney third in 11.86.
The Hornets piled up points in the distance races. In the 1600, Charlie Terry was third in 5:04.70, followed by Ben Majors in fourth (5:08.68) and Ian Britt in sixth (5:16.56).
Terry was second in the 800, finishing in 2:11.83 with Majors fifth (2:16.12).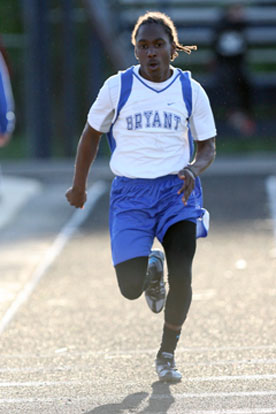 Bryant picked up second-place points from Dany Murillo in the shot — his toss went 43'2.25" — and from the 4×800 meter relay team. Sam Martin, Chandler Reep, Majors and Terry combined on a 9:10.26 clocking.
In the 4×400, the Hornets quartet of Clayton Harvey, Wyatt Heavin, Alpe and Taylor Hecker turned in a 3:59.42 to garner third-place points. Hecker was also third individually in the 300 hurdles, finishing in 46.53. Alpe was also seventh in the 200 (25.56).
In the 110 hurdles, Dylan Davis was fifth (18.55) and Drew Carnahan seventh (18.95).