Photos courtesy of Julia Combs
After a month away from competition, the Bryant High School swim team got back in[more] the pool with 11 other girls teams and 12 other boys teams Thursday at Bishop Park. Conway wound up taking top team honors in both divisions. Bryant was second among the boys and third in the girls division with Rogers Heritage second.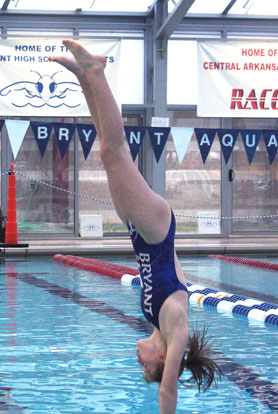 Conway won the boys competition with 244 points. Bryant had 193 with Heritage third with 163, followed by Russellville (137), Benton (128), Magnolia (114), Arkadelphia (99), El Dorado (93), Rogers (71), Pottsville (41), Little Rock Christian (7), Hot Springs Lakeside (3) and Lake Hamilton (1).
The Conway girls were dominant with 327 points. Heritage finished with 168 and Bryant 151. Rogers was fourth (115) followed by Little Rock Christian (114), Magnolia (90.5), Lakeside (88), Benton (70), Russellville (54), Lake Hamilton (53), El Dorado (30), Arkadelphia (30) and Carlisle (5.5).
"It is always hard to come back after Christmas break," commented Bryant coach Angel Dale, "especially when you have a few extra days off due to the snow."
The Hornets' effort produced three first-place finishes, two from Minki Kang and one by Justin Combs.
Kang won the 500 meter freestyle with a time of 4:39.80 and the 100-yard butterfly with a time of 53.41. He also contributed a leg to Bryant's third-place 400 free relay, which finished third in 3:55.96; and 200 medley relay, which finished fourth in 1:55.83. The result was 43.5 points accumulated by the Bryant junior.
Combs won the one-meter dive competition with a 15.8.30 score while picking up points with a leg in the Hornets' eighth-place in the 200 free relay.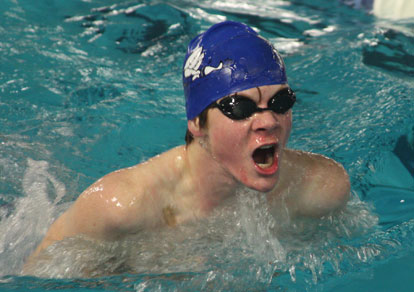 "I was proud of the boys' second-place finish," Dale said. "We were actually missing Matt Mead who had knee surgery over the break, and had to let Casey Ball go home early due to illness."
Nick Hoffpauir contributed 19.5 points, Scott Mead 19 and Trace Rhode 17. Mead's came with a second-place finish in the one-meter dive, finishing with a rating of 134.50, in addition to a leg on the 400 free relay.
Rhode was a part of that relay as well and, individually, added a fourth in the 200 individual medley, posting a time of 2:29.78.
Hoffpauir's points came with scoring finishes in three events including the 200 relay. He was fifth in the 500 free (6:28.55) and seventh in the 200 IM (2:47.49).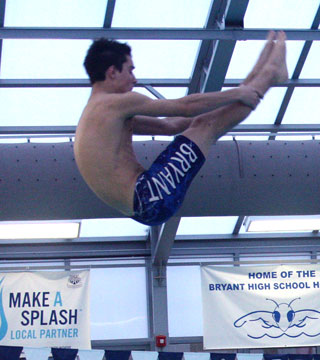 Dellorto scored in four different events to accumulate 14.5 points. In addition, Casey Ball pitched in with 15.5 points while Andrew Ball equaled Dellorto's total.
Casey Ball earned 10 of his points with a fifth-place finish in the 200 free (2:18.30). He was also a part of the 200 relay with Dellorto who scored in the 400 relay as well and, individually, taking 11th in the 100 butterfly (1:09.55) and 12th in the 50 free (26.59).
Andrew Ball was sixth in the 200 IM (2:43.91) and 10th in the 100 breast stroke (1:21.43) while contributing a 200 free relay.
Lucas Reitenger contributed a fourth-place finish in the one meter dive (119.85) while Ray Weldon turned in a led on the 200 medley relay as well as the 200 free relay. He contributed four points with a ninth place finish in the 100 breast.
Spencer Qualls earned seventh place points in the 500 free (1:51.64) and took 12th in the 200 free (2:34.02).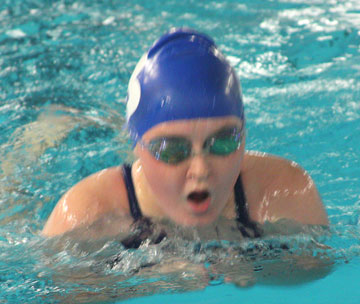 Dale noted that the girls were hampered by illness as well.
"I felt the girls could have finished second instead third if Lindsey Butler could have been 100 percent," she said. "She has been battling illness and we had a girl diver that was DQed and that hurt us also."
Butler, an all-State performer last year, was limited to helping out on relays. She joined Katie Higgs, Kalee Jackson and Julianna Shelton to take second in the 400 free relay with a time of 4:13.98. She also joined Jackson, Higgs and Reagan Smith in the 200 medley relay, which wound up third with a time of 2:09.06.
In the 200 free relay, Sarah White, Bailey Peairson, Tiffany Robinson and Smith combined on a 2:04.58 clocking, good for sixth.
Higgs wound up being the Lady Hornets' top scorer, contributing 28 points. Along with her work in the relays, she produced fourth-place finishes in the 100 fly (1:09.75) and the 100 back (1:08.07).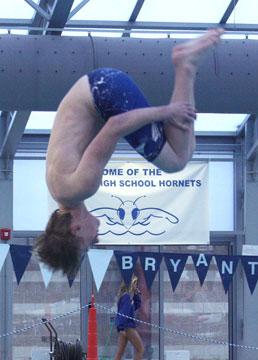 Jackson added 27.5 points. She was fifth in the 200 IM (2:45.62) and seventh in the 100 butterfly (1:15.70) to go with her relay work.
Kaitlin Howey had Bryant's top individual finish. Her one-meter dive produced a score of 78.20 to garner third-place points.
Libby Thompson finished seventh in the 100 breast stroke (1:25.95) and 12th in the 50 free (30.12) while Shelton and Peairson both added eighth-place finishes. Shelton's came in the 100 free with a time of 1:08.53. White was right behind her with a 1:09.08. Peairson was eighth in the 200 IM with a time of 2:58.50. Devin Hester was ninth in 3:01.46 and Lauren Wood 11th in 3:16.77.
Hester added a 12th-place finish in the 100 fly (1:28.0), Mikayla Douglas was 11th in the 500 free (7:29.68) and Courtney Wells was 12th in the 200 free (2:42.91).
The Bryant divers were scheduled to compete at the University of Arkansas in Fayetteville this Saturday with just the swimmers returning to action on Thursday, Jan. 17, at Cabot.
"We have less than a month until the South District Championships to get well and back to 100 percent," noted Dale