Editor's note: This is a regular feature profiling senior athletes at Bryant High School.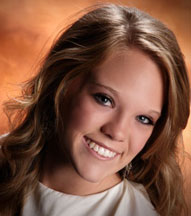 NAME: Courtney Hovorka
PARENTS' NAMES: Brett and Kelly Hovorka
SIBLINGS (NAMES/AGES): Haley Fox-Brantley age 24; Taylor Fox age 22
FAVORITE SUBJECT IN SCHOOL: Algebra
FAVORITE SPARE TIME ACTIVITY: Deer hunting and Cheer
FAVORITE FOOD: Chicken Dorito
FAVORITE MUSIC ARTIST OR GROUP: Miranda Lambert
FAVORITE MOVIE: Finding Nemo[more]
FAVORITE TV SHOW: The Ellen Degeneres Show
WHAT WAS YOUR FAVORITE TOY AS A KID? My Ket Car
WHAT ARE YOUR PLANS AFTER HIGH SCHOOL? To attend UCA and major in Physical Therapy
OTHER THAN YOUR PARENTS, WHO HAS HAD THE BIGGEST INFLUENCE ON YOUR LIFE? HOW? Both of my grandmothers have taught me a lot about life and have supported me through everything
FAVORITE THING ABOUT CHEER: Being a flyer
WHAT DO YOU FEEL IS YOUR REPONSIBILITY ON THE TEAM? To always perform to the best of my ability, never slack in practice, and always work hard to try to improve myself.
THOUGHTS ON SEASON SO FAR: We are a very talented team with a lot of potential and we have performed very well this year.
WHAT'S BEEN THE HIGHLIGHT TO THE SEASON SO FAR? Winning first place, best stunts, and Grand Champions at the Mayflower competition
WHAT'S IT GOING TO TAKE FOR THE TEAM TO BE SUCCESSFUL AT NATIONALS? We have to do our very best, stay focused, and make no mistakes
INDIVIDUALLY, WHAT ABOUT YOUR PERFORMANCES ARE YOU MOST CONFIDENT ABOUT? Tumbling
WHAT DO YOU WORK HARDEST TO IMPROVE? Flying
AFTER YOU'RE THROUGH CHEERING AT BHS, WHAT DO YOU THINK YOU'LL REMEMBER MOST FONDLY ABOUT IT? Cheering at the pep rallies