Photos by Kevin Nagle
CABOT — Just days after a 48-29 win over Cabot South, the Bryant White Hornets eighth grade[more] team of Bryant Middle School triumphed again over the Junior Panthers on Monday night. It was closer this time, but the Hornets prevailed 42-39.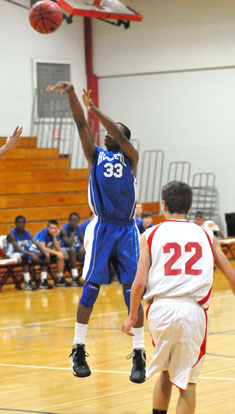 The win improved the Hornets to 5-0 on the season. They'll host Lake Hamilton on Tuesday, Dec. 11.
The Hornets were in control at halftime. After surging to a 10-5 lead after a quarter, they bumped the advantage to 25-10 by the break. But Cabot South rallied with a 21-point third quarter to grab a 31-29 lead.
"We did a better job offensively this time around," said Bryant White coach Heath Long. "We made shots in the first half, which allowed us to build our lead. However, we got off to another poor start in the second half and had a disastrous third quarter.
"The slow starts are concerning," he noted, "and they are something that we must get fixed. Fortunately, we were able to get going again in the fourth quarter and win the game."
Romen Martin paced the scoring with 18 points. John Winston had 6 and Kyle Sahr 5.