Photos by Kevin Nagle
CABOT — Kris Croom and Kevin Hunt converted clutch free throws in the final minute of[more] the game as the Bryant Hornets freshmen earned a win on the road Monday night, 34-28, over the Cabot South Junior Panthers.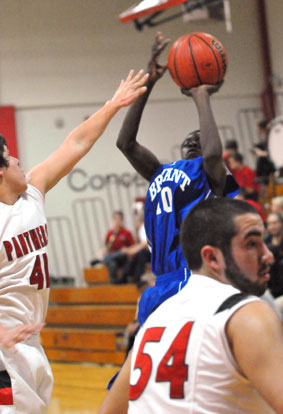 The win snapped a four-game losing streak for the Hornets, who travel to North Little Rock this Thursday.
Cameron Murray led Bryant with 13 points. Croom wound up with 12 and Hunt 6. Clay Ingold pitched in with 2 and Simeon Watson 1.
"I thought our defense and rebounding were a lot better," said Hornets coach Mike Simmons. "We also got off to a good start and got a little confidence. That helped a lot."
The Hornets led 11-7 after a quarter and 16-13 at the half. A solid third quarter produced a 25-18 edge going into the final period.
"Cameron Murray played real well on both ends and stayed out of foul trouble until late in the game," Simmons mentioned.
"On offense, they're starting to get more movement and our shot selection was better," he added, "but we still have a long way to go."