Photos by Kevin Nagle
The Bryant White Hornets of Bryant Middle School established an early lead and held on for[more] a 34-26 victory over the Bryant Blue Hornets of Bethel Middle School in a seventh grade contest at the Bethel gym Monday night.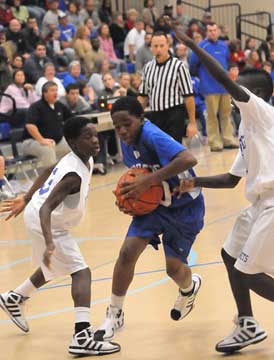 Romen Martin scored 13 points to lead Bryant White. Brandon Harris had 8 and Tyler Kelly 6.
For Bryant Blue, Calvin Allen led the way with 9 points. Desmond Duckworth, Jeffery Hastings and Josh Bonner each had 4, Caylin Allen 3 and Hunter Handley 2.
"We executed a lot better than we did against Conway White," said Bryant White coach Heath Long, referring to his team's loss in its previous outing. "Especially, with our man-to-man offense. That's certainly something that we want to see continue and keep improving on.
"I also thought we had a good effort on the defensive end of the floor," he added.
Bryant Blue head coach Derek McGrew said, "They have one kid that separates them from us and we had no answer in that first half for him. We made some adjustments and held him to two free throws in the second half, but they had a couple of kids step up and make big plays."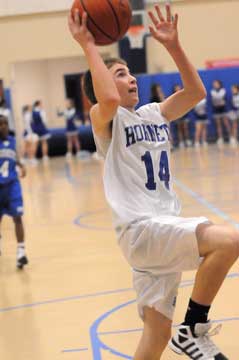 "Bethel has a good team," Long stated. "We look forward to seeing them again in February."
"I love this bunch," McGrew said of his team. "They are small and scrappy, will fight to the end. We had some kids not play as well as usual but, hopefully, we will be them the next time out. I look forward to the rematch in February."
To be exact, the rematch will be Feb. 2 at Bryant Middle School.
In the meantime, Bryant Blue, now 6-2 overall, will take off for the holidays and return to action on Jan. 5, at home against the Anthony School.
Bryant White, now 2-1, has one more game before the break, hosting Greenbrier on Thursday.