Photos by Kevin Nagle
Cameron Murray scored 13 points and Simeon Rice 9 to lead the Bryant White Hornets eighth[more] grade team of Bryant Middle School to a 40-15 win over the Bryant Blue Hornets of Bethel Middle School Monday night.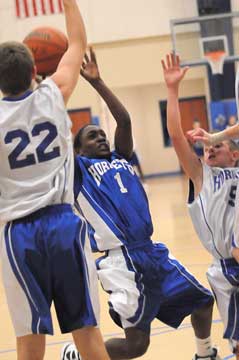 "Overall, we played our best game so far," said Bryant White coach Heath Long. "We did a good job of handling their pressure and not allowing them to get going in transition.
"I also liked what I saw out of our man-to-man defense," he added. "Cameron was hampered by foul trouble, but he played well during the time he was out there."
For Bryant Blue, Evan Lee scored 6 points. Jordan Gentry added 4 with Nic Hardin and Grayson Ruple scoring 2 each and Nic Feeko 1.
"We shot very poorly," said Bryant Blue coach Derek McGrew. "We were 7 of 20 from the free-throw line.
"Bryant (White) has two big posts but the (Murray) kid is a monster," he added. "He wore us out inside. I feel we will play them a lot better the next time. I'm proud of my kids' effort and hustle. They represent Bethel to its fullest."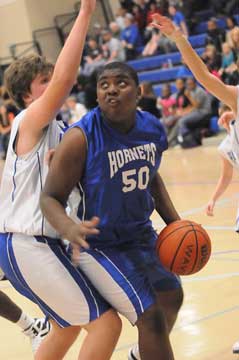 Bryant White took a 12-7 lead by the end of the first quarter and held a 23-9 lead at the half. It was 28-11 going into the fourth quarter.
Bryant White improved to 3-6 with the victory with its next game not until Jan. 17, at Anthony School.
Bryant Blue, now 5-4, hosts Anthony School on Jan. 5.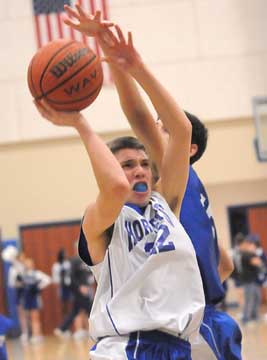 \