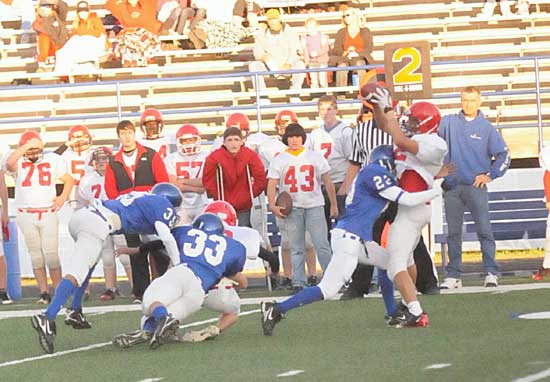 By Rob Patrick
Photos by Kevin Nagle
It's kind of amazing really that, with all the shotgun and pistol formations being employed by[more] so many football teams at all levels these days, the snaps that are required don't go awry more often.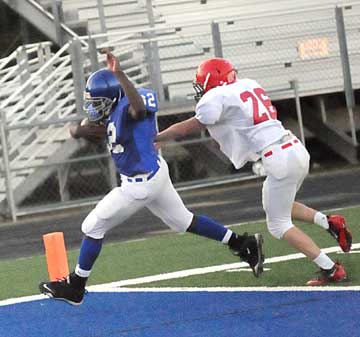 It's not automatic although a lot of centers make it look that way.
On Thursday night, the Bryant White Hornets eighth grade football team suffered bad snaps four times. Once, Hornets quarterback Jaret Jacobs recovered though it led to a punt a play later. On the punt, another errant delivery was recovered by the Cabot North Panthers' Jared Dixon to give his team possession just 26 yards from snapping an 8-8 tie.
The Hornets' defense, however, made a stand inside the 10 to keep it deadlocked.
Twice, actually at the end of each half, however, misconnections on the snaps ended Bryant threats in a game that ended 8-8.
The Hornets, now 3-2-1 this season, conclude their season next Thursday against Ridge Road of North Little Rock.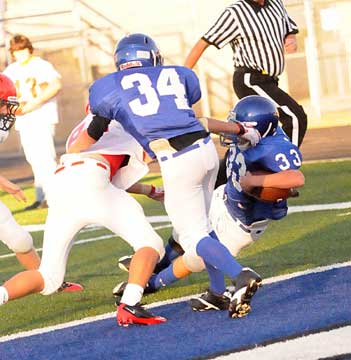 Bryant White had opened the game with a nice 51-yard touchdown march. The longest plays of the drive covered 11 yards, first by Demaja Price. The second dash for 11 was by Drew Alpe. He scored on the play with 2:37 left in the first half.
Jacobs passed to Price for the two-point conversion.
Alpe would go on to rush for 129 yards on 18 carries in the game.
After the Hornets forced a Panther punt, they drove from their own 49 to the Cabot 33 only to have a penalty and a lost-yardage play undermine the effort. On a fourth-and-18 at the Cabot North 41, Alpe was stopped for no gain and the Panthers took over on downs.
A 46-yard run by Austin Nguyen started Cabot's series. From the 13, it took seven plays for the Panthers to find paydirt. They converted a fourth down from the 4 when running back Brody Lambert picked up 2 yards. Moments later, however, they were facing a third-and-goal when Lambert just got into the end zone, spoiling the Hornets' bid at a goal line stand.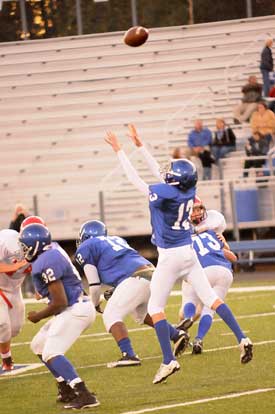 Lambert run in the two-point conversion and, with :40.3 left in the first half, the final score was on the board.
The Hornets did make a bid to snap the tie before the half. Alpe's 24-yard dash on a fourth-and-9 from their own 32 provided the initial impetus. Jacobs then found wideout Quinton Royal for a 17-yard pass play to the Cabot North 27.
But, after a timeout with :08.1 showing, a high snap resulted in a loose ball that Cabot North's Kolton Eads recovered.
The Panthers put together an impressive drive to start the second half. In typical Cabot fashion, they used 13 plays and the entire third quarter to drive from their own 12 to the Bryant 30. That's where the Hornets' defense made a stand. Kameron Guillory stopped a first-down run by Lambert for no gain. A Panthers' fumble sabotaged the second down play though running back Matthew Pack recovered.
A play later, it was fourth down. On the first play of the fourth quarter, Lambert got the call again but was stopped one yard short.
After the fumble on the punt attempt that gave Cabot the ball at the Bryant 26, Lambert dashed for 12 yards to the 14. An 8-yard run on the next play was underminded by a penalty but, two plays later, the Panthers were at the Bryant 7. On third down, Pack took a handoff but was blasted by Bryant's Justin Cagle, Zach Jackson and Dany Murillo for a loss of a yard.
So when the Hornets stacked up a run by Lambert on fourth down, Bryant had one last chance to win it though they started the possession at their own 7 with 2:05 left to play. After they'd used timeouts on defense during the defensive stand, the Hornets drove into Cabot North territory. Drew Alpe started the march with runs of 16 and 21 yards. At their own 44, Alpe was stopped for a loss. A procedure penalty followed with :52.7 showing.
Moments later, the Hornets faced a fourth-and-17 at their own 37 when Jacobs connected with Simeon Watson for a first down.
With time running out, they got to the Cabot 42 before a procedure penalty as Jacobs was trying to 'clock' the ball, pushed them back to the 47. With time for just one more play, another errant snap left Jacobs with little to do other than covering the ball as time expired.
BRYANT WHITE 8, CABOT NORTH 8 (tie)
Score by quarters
Cabot North 0 8 0 0 — 8
BRYANT BLUE 8 0 0 0 — 8
SCORING SUMMARY
First quarter
BRYANT WHITE — Dr.Alpe 11 run (Price pass from Jacobs), 2:37
Second quarter
CABOT NORTH — Lambert 1 run (Lambert run), 0:40.3
Team stats
Cabot North Bryant White
First downs 5 13
Rushes-yds 30-141 33-127
Passing yds 0 34
Passing 0-0-0 2-7-0
Punts-avg. 1-22.0 0-00.0
Fumbles-lost 2-0 4-1
Penalties-yds 2-10 3-15
INDIVIDUAL STATS:
Rushing: BRYANT WHITE, Dr.Alpe 18-129, Price 4-17, De.Alpe 5-15, Jacobs 6-(-34); CABOT NORTH, Lambert 21-88, Nguyen 1-46, Crews 3-9, Bailey 1-1, Pack 2-(-1), Gee 2-(-2).
Passing (C-A-I-Y): BRYANT WHITE, Jacobs 2-7-0-34; CABOT NORTH, none.
Receiving: BRYANT WHITE, Royal 2-17, Watson 2-17.